Malaysia adopts RFID in timber industry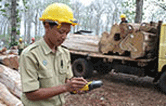 Helveta, a British company that provides RFID tracking solutions for the timber and food production industries, has just completed a project in Malaysia using RFID and its CI World software platform to monitor timber production in Malaysia's Terengganu province.
The project involved forest officers taking inventory of the designated 129,143 hectare plot and tagging all trees suited for timber with RFID labels.
This tagging process creates a virtual online map of the forest, allowing registered users to look at the data and create a sustainable resource management plan for the area, which is particularly important for Malysia as deforestation and erosion have been major issues since the country's timber boom in the 1960s. Also, real-time visibility of each individual tree grants forest officers improved awareness of unauthorized logging.
Once the trees are tagged, loggers use hand held computers outfitted Helveta's CI Mobile data capture software to read the tags and record information related to each tree. A tagged tree can then be traced throughout the timber production process and across the entire supply chain.