Breaking down the business cases for NFC

Banks, telcos, TSMs … Who will get paid in the NFC ecosystem?
By Autumn C. Giusti, Contributing Editor, AVISIAN Publications
Will that be Visa, MasterCard or iPhone?
That's the question banks and cell phone companies are hoping to hear more of in the next few years as the contactless payment world prepares to make the leap to near field communication (NFC).
Near field communication is a technology that would enable people to make purchases or ride the subway with a wave of their mobile phones. The technology is beginning to take hold in Japan and South Korea, and trials have taken place around the globe. Analysts believe NFC could start appearing in U.S. markets before the end of 2010 and could reach critical mass in the next two to three years.
But as with anything else hitting the market, someone needs to make money off it for it to be viable. Unlike most new forms of technology that require only a single company to apply it, there are multiple players involved with NFC–financial institutions, mobile operators, merchants and other stakeholders. Thus its business model is a bit more complicated.
The question comes down to who will make the first move. "I see a lot of opportunity … it's a matter of who wants to pick this up and go for it," says Stephen Ezell senior analyst with the Information Technology and Innovation Foundation in Washington, D.C.
How it works
One of the main selling points of NFC is that it could eliminate the need for banking customers to carry around a stack of credit cards. Loading a payment application, customers would have all the capabilities of a contactless payment card on their mobile phones.
"We know from our primary research that consumers are more likely to leave home without their wallet than without their phone. So it's more convenient to have a payment device built into the phone," says James Anderson, vice president for mobile product development at MasterCard. Anderson also sits on the board of the NFC Forum, an organization developing standards for near field communication.
In 2008 ABI Research forecasted that there would be 100 million mobile phones with NFC by the end of 2010 and 292 million by 2012. "This is a technology that is available globally, but because there are substantial differences between markets in the United States versus Japan and Europe, how it gets implemented is going to vary region to region," says Randy Vanderhoof, executive director of the Smart Card Alliance.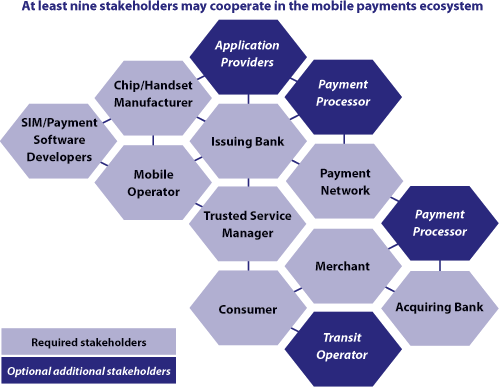 Business models explored
There are multiple parties looking to make money off NFC technology, primarily mobile companies and financial institutions. "Figuring out who's going to bear the freight and who's going to be a free rider is one of those classic geekonomic problems," Anderson says.
A report by the Smart Card Alliance explores four possible business cases: one where the mobile companies take the lead, one led by the banks, a peer-to-peer model–using a third party such as PayPal–and a collaborative model.
In the survey 86% of participants supported collaboration, meaning all of the stakeholders would need to work together and figure out how to share the revenue. "There's a big banking ecosystem, a big payments ecosystem and a big mobile ecosystem. Those parties historically haven't worked together, so we've got a lot of learning to do about each other," Anderson says.
Through the collaborative model, the merchant fees would most likely be split between banks, mobile operators and possibly third-party stakeholders.
Vanderhoof says one way for the mobile operators to make money is by renting out their phones to financial institutions and charging them a fee to post a Visa, MasterCard or other payment application on the phone. The mobile companies could also charge customers a fee for every purchase made with the phone.
Another potential revenue source for the mobile companies involves charging customers higher fees for the amount of data they use on their phones. Mobile handsets would also be able to receive promotions, coupons and other marketing messages, either from a retailer or from a mobile company.
Once phones are outfitted with NFC capabilities, the question remains as to who pays for the hardware. In the U.S., mobile companies typically subsidize some of the cost of the handset under their service contract. But that could change with NFC. Analysts say it's uncertain as to whether mobile operators will continue to pay the full subsidy, or if customers or other stakeholders will have to ante up for NFC capability.
A third party to secure the transaction
Linking NFC-enabled phones to payment networks opens a new door for potential security breaches, and thus, some analysts suggest a third entity may need to come into the picture–the trusted service manager (TSM).
A TSM would serve as an intermediary that secures financial data transmitted between the banks, the merchants and the mobile device, says Ray Wizbowski, director of marketing and communications for Gemalto, a digital security company that has participated in several NFC pilot programs worldwide.
Wizbowski says most of the pilots that have succeeded involved a TSM. One such pilot took place in Paris, involving eight banks and three mobile operators. Gemalto was the TSM for seven of the eight banks.
The benefit of putting payments on secure mobile devices is that banks would save money on acquisition fees, which run from $25 to $250 per account. When banks mail credit cards to customers, 64% of those cards are never activated, Wizbowski says.
But if a TSM secures a mobile phone, the bank could virtually eliminate acquisition fees by issuing a payment card application directly to the customer's phone over the air. Instead of having to call an 800 number to activate a card, the customer would enter an activation code directly into his phone.
"You go from having a 36% to a 100% activation rate," Wizbowski says. "You're suddenly seeing a larger cost savings because you don't have as many calls going through a call center."
Testing the market
While about 50 NFC pilot programs have taken place worldwide, few have been able to implement a full NFC ecosystem.
Japan has had widespread success with its NTT DoCoMo and FeliCa program, as has Spain with its MobiPay trial. Both of these NFC projects involve mobile companies essentially operating as banks. But these pilots operate under an economic infrastructure and circumstances that are very different from North America.
In the United Kingdom, credit card company Barclaycard and mobile operator Orange UK announced plans in the first quarter of 2009 to launch a fully-integrated NFC platform with the goal of having widespread adoption in 2012.
Sprint and AT&T have been the most active mobile operators in terms of U.S. pilots. In one pilot program in Atlanta, audience members at an Atlanta Hawks basketball game were provided handsets they could use to make purchases and download promotions within the stadium.
MasterCard has also been working on trials worldwide. "Trials are very good about testing out technology, but you can't get real numbers until consumers start changing their behavior," Anderson says.
Building an ecosystem
For NFC to succeed widespread, the infrastructure must be in place for its use. That means merchants will need to have contactless card readers in place. "The problem in the U.S. is that customers have few places where they can go to use an NFC-enabled phone so they're not going to use it, and retailers aren't going to sell it," Ezell says. "The question is how do you resolve that paradox and bring the market closer to fruition?"
Helping to address the need, the payment industry has been deploying contactless terminals across the U.S. and around the globe. Because the same reader that accepts current contactless payments can also accept NFC, this portion of the hardware infrastructure is experiencing a significant boost.
MasterCard has been rolling out contactless payments in more than 30 countries and has 174,000 merchants with contactless readers, Anderson says. "We're ready on the acceptance front to have a merchant be ready to accept contactless payments on the phone," he says.
The bigger hurdle is that mobile phones enabled with NFC also need to be ready and widely available.
One way to get the ball rolling could be through use of a sticker or tag, a contactless payment card that can be physically adhered to a phone. "It's essentially taping a credit card to a handset," Wizbowski says.
Analysts acknowledge this would be a transitional form of the technology but could help change people's purchasing habits. They also offer the potential to put a relatively large number of NFC cards into the hands of customers and see how they're put to use.
"One of the very important things for a business model discussion is that the parties in those discussions have to have numbers they feel confident about to justify their investment. And I think that's where things like tags can be helpful," Anderson says.
Where NFC is headed
While analysts expect NFC technology to hit U.S. markets later this year, they don't expect widespread use overnight.
"There's going to be some lag between seeing how well those devices work and how well consumers respond to them," Vanderhoof says. "Then you'll see the rest of the market start to move at the same pace and probably make incremental improvements over what the early adopters delivered. From a timing standpoint, that's going to take 18 to 24 months from when we see the first solution being tested in the market."
Another challenge comes from the fickle nature of mobile customers, who have unique features they like about their phones. "To reach a mass market it's going to take mobile operators making NFC available across multiple platforms to satisfy all of their different customers," Vanderhoof says.
And fine-tuning the business model for NFC will factor into how quickly the technology takes hold.
---
Risks & Benefits for NFC business case options
Operator-centric model
The mobile operator acts independently, taking on the responsibility of financial institutions either by providing merchants with a wireless POS system or by signing people up for credit card accounts on their phones.
Collaboration model
This involves collaboration among banks, mobile operators and other stakeholders. A mobile operator would either partner with a bank to offer a payment service, or industry associations representing these two parties would negotiate and set standards for mobile payments apps.
Bank-centric model
The bank is responsible for getting NFC-enabled phones to customers. Essentially, instead of distributing payment cards to customers, they would be distributing mobile devices and apps. The bank's role in this model can range from giving customers a phone fully outfitted with NFC to simply adding a payment application to the customer's current phone.
Chart from the Smart Card Alliance