British company combats illegal timber trade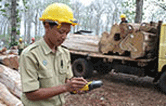 Oxford-based asset track-and-trace technology company, Helveta, is working with Carbon Trust Investments to support the development and deployment of software to wipe out the global illegal timber trade, which is said to be a major contributor to climate change.
RFID tags are attached to trees while in the forest giving Helveta software the ability to provide real-time tracking of harvested timber as it moves through various parts of the supply chain, from forest to saw mills, to the point of exit from a country.
The software encodes the each countries' rules and regulations to ensure timber has been legally and sustainably sourced, and that no illegally harvested timber is introduced into the supply chain or remove through theft.
The software provides a real-time electronic inventory and audit trail, avoiding errors that can be introduced through paper-based systems.
Helveta is deploying the software in Liberia, South Africa, Bolivia and Ghana and plans to soon enter other central African countries for which the European Union is a key market.