C-True unveils airport facial recognition system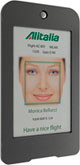 C-True Imaging Ltd. has introduced the C-Gate system, a boarding pass authentication solution using face recognition technology. The C-GATE system is designed to assure that ticketed passengers will be allowed to board only their proper flight.
The C-Gate solution has been designed to enable fast, non-intrusive, biometric enrollment of the passenger face image at the check-in counter and automatic face verification of the passenger identity at the boarding gate.
When a passenger obtains a boarding pass or acquires an e-Ticket, C-Gate captures the passenger's face, generates a template and embeds it into a bar code on the boarding pass. Later, when the passenger approaches the gate for boarding, C-Gate captures another image of the passenger and checks for match with the passenger's face template previously acquired in the database.
If a match is found, the system enables boarding and logs the transaction. If C-gate doesn't recognize the passenger his access is denied. Denied passengers images are captured and stored in the database, and activity log is produced for further investigations.
The system was launched at IATA's AVSEC 2008 conference, in Seoul, South Korea.