CARTES 2008 to focus on e-transactions and the United States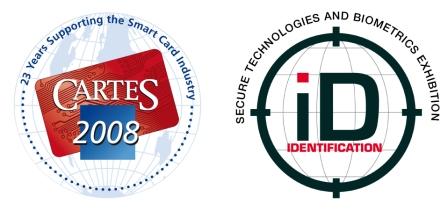 CARTES & IDentification will be held from November 4 to 6 2008 in Paris-Nord Villepinte. In 2008, the show's focus will be on e-transactions, ID management and the USA. Organizers expect to welcome over 20,000 visitors, as well as 520 exhibitors and 1,700 conference delegates.
Following the focus on Japan in 2007, the United States will be this year's spotlight country at CARTES & IDentification. The USA is a pioneer in this field in terms of transport, payment, exchanges and loyalty applications. The USA leads in the field of contactless technology — more particularly its deployment via multiple applications, such as electronic documents or payment cards.
Besides, the USA is actively involved in the secure electronic-transactions market and has, as a result, tended to get other players to adopt American standards as the new technological standards of reference. The United States will also have a dedicated pavilion in the heart of the trade fair as well as including highlights of various activities related to the US market, together with the presence of major decision makers linked to that market.
CARTES 2008 is giving pride of place to a particularly dynamic sector — identification. This was demonstrated last year by the successful launch of the IDentification event, which runs alongside CARTES. IDentification is dedicated to secure technology and biometrics. It will bring together all the players offering solutions and technology linked to biometrics, document security, authentication, physical or logic access control, encryption, RFID, and e-government procedures.
Following its successful introduction in 2007, CARTES & Identification 2008 will once again feature a Mobile Transaction TechZone, held in partnership with the NFC Forum. Boosted by the development of contactless and multi-application technology, mobile transactions are giving the various players new applications and new perspectives — NFC, RFID, M2M, transaction security and kiosk technology, for example. The following companies participated in this Mobile Transaction TechZone in 2007: Innovision, Legic, MasterCard, Nexpert, Nokia, NXP Semiconductors, Stolpan, Toppan Printing and USA Technologies.
The three-day Congress that is held during the event is a great source of information and know-how, featuring many presentations from international innovations. All the subjects covered relate to chip cards or identification, providing a broad and accurate view of the market. The conferences present today's most innovative projects and serve as a platform for interchange and contact between more than 1,700 visitors and speakers. The opening World Card Summit conference will also welcome an exceptional line-up of keynote speakers sharing their points of view and their visions of the market.
The Sesames Awards 2007 are open to all companies in relevant sectors, be they CARTES & IDentification exhibitors or not. The Awards are a tool for promoting innovative projects, and crown, in a very concrete way, several years of R&D effort. The Awards are decided by a jury of experts, and will be given at a prestigious ceremony in Paris on the day before the opening of CARTES & IDentification 2008. Products presented by the finalists will be on display in the Sesames Area located in the heart of the trade fair.