CARTES in North America to focus on mobile payments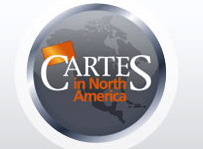 CARTES in North America, a new annual card manufacturing, payment, identification and digital security expo and conference, has placed mobile payments at the center of its agenda of this year's inaugural event.
Held March 5-7, 2012 in Las Vegas, CARTES will focus on determining what combination of technology convergence, business partnerships and consumer acceptance points will drive the widespread adoption of global mobile payments.
CARTES in North America will host two day-long tracks on Global Mobile Payment & Services Initiatives, featuring speakers from the U.S., Canada and Europe. Topics will range from deploying NFC payments and the changing business case for banks, to retailer adoption, consumer acceptance and security.
Tim Jefferson, managing director of The Human Chain, will also present a keynote address on Mobile Payment and NFC on March 5 and chair the day's Global Mobile Payment track.
Other mobile payments highlights on March 5 include: ABnote presenting a session on "A Pathway Approach to Deploying NFC Payment" and MasterCard Worldwide speaking on "The Commercial Launch of Mobile Payments Using NFC-Enabled Phones."
"Today, people want the freedom to pay in a way that best fits their needs and lifestyles with a simple tap, click or touch," commented James Anderson, MasterCard's SVP of Mobile and Emerging Payments. "As we continue to focus on innovation and developing technologies like NFC, we'll be able to further enhance the consumer experience—from search to purchase opportunities, to instant rebates, to e-commerce."
In addition, Canadian-based Ipsos will present the results of a consumer survey on mobile payments during the session, "Are Consumers Ready for Mobile Payments?"
Security will be the focus of the CARTES in North America Global Mobile Payment and Services Track on March 6. Dawood Khan, a partner at Red Mobile in Canada will chair this track, which features nine sessions on "The Mobile: A Trusted Environment?," "Certificates & Standardization," and "Secure Identity on the Mobile Device."
Click here for more info.