Chase defines contactless payments and contactless payments help redefine Chase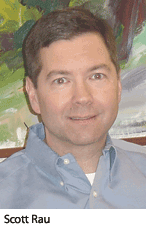 Recently, AVISIAN Publication's Execuive Editor Chris Corum, spoke with Scott Rau, Senior VP of Payments, JPMorgan Chase Card Services Division, about the launch of the 'blink' contactless payment card. Mr. Rau has been involved in advanced payments for nearly two decades, from both the manufacturing and issuing side. He led the financial cards division within Gemplus and worked in emerging payments with Fleet, CoreStates, the MAC Network, and others. In his current role with JPMorgan Chase, he is helping to lead the blink team as it helps redefine Chase as a retail brand.
Editor's note: After this interview was conducted, JPMorgan Chase announced a major new rollout of Blink in in 481 cities and 11 counties across New York, New Jersey and Connecticut.
Catch us up on the current status of the blink rollout?
We launched blink in June in Colorado and Georgia, specifically in Denver and 62 surrounding cities and towns and Atlanta and 163 surrounding cities and towns. We currently have 2 million cards out now with blink and we have significant merchants enabled in each of our targeted categories – theatre, quick serve restaurant, drug store, grocery, fuel, and convenience/specialty retail.
In Georgia, major retailers accepting blink include KFC (quick serve restaurant), Racetrac (fuel and convenience store), Regal Cinemas, CVS (drug store), and Walgreens (drug store). In Colorado, they include 7-11 (convenience store), Arby's (quick serve restaurant), Walgreens, and Regal Cinemas.
Two of our co-brand partners have added blink: United Airlines on its Mileage Plus Visa cards in the Denver area, and Sheetz, the convenience store chain headquartered in Pennsylvania, is the first credit card portfolio to be entirely contactless enabled.
Our advertising and mass media outlay has been significant and the results have been great. We have promoted blink on radio, billboards, print ads, and tv. We have blink-sponsored events and a dedicated cardholder newsletter.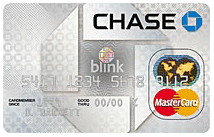 What led to the determination that the time was right for Chase to make such a major move to contactless technology?
There were a number of key factors that came together in favor of the launch. First, with the Chase and BankOne merger we had an opportunity to re-brand the Chase product with both bank's customers. Chase was literally reinventing itself as a brand to our retail customers.
Additionally, the evolution of contactless from the association standpoint had come full circle. The standards and specs were coming in line as the 14443 decision was coming to pass. Chip and reader infrastructure costs were coming in line. No signature requirements were in process…
And third, early contactless pilots had validated to merchants that speed and convenience did make a difference for customer loyalty. Merchants were already trying to improve customer throughput and the shopping experience, and this was all seeming to run in parallel.
So you decided the time was right. Then, I'd bet, you had some major convincing to do both inside and outside the bank?
Exactly. Internally, we took a focus on how this could help our core payments business. We built the strategy around how blink could accelerate safe and secure payments for our cardholders. This was an addition to our core business plan rather than a standalone plan for a new technology. It is part of an overall strategy for customers.
Externally, there were several key stakeholders. We felt positive about the consumer need and desire. Merchants were prepared as small ticket locations were implementing credit. So we began working aggressively with the payment networks. We were able to make fairly rapid progress because of our scale as an issuer and the fact that we are a dual-issuer (both MasterCard and Visa). There was a great deal of work to be done to certify terminals and test technology, the areas that Visa and MasterCard are so good at, (and) with Chase behind it there was a good incentive.

When you and I first met ten years ago, you were with Gemplus in charge of the card product line for the financial industry. Though the bulk of your career has been in the banking sector, I would guess that you consider yourself less a career banker than a career "card technologist." How has that impacted the bankcard programs that you have helped to develop?
I remember looking at smart cards way back in 1993 at CoreStates (bank) and the MAC network. In the past, as an industry we focused too much on the delivery of the technology. The challenge has always been the value proposition. We keep proving to ourselves in the market that if you don't have the three-tiered benefits – consumer merchant, and bank – the technology will struggle. The value proposition can't just be for one individual in the chain. It is rare to find something that hits on all cylinders.
Because I was on the manufacturing side, I appreciate the need for standardization. We did not want to launch until we had ubiquity across manufacturers.
Like many in the industry, you were a strong proponent that contact chip cards required multi-application capability to succeed in the U.S. SmartVISA (Visa's contact chip card offering) was certainly built around that concept. Do you feel the same way about contactless payment cards or is the need for multiple applications outweighed by the more core benefits of contactless technology?
Today, multi-application is more in the functionality we give our card members as opposed to the technology we use to deliver it. It is still important, but we look at it as payment, loyalty, rewards, etc. – a series of functions we can deliver to our customers through a variety of methods – real time, statements, email, – rather than a specific technology version. So in this new view, you can accomplish (multi-application) with contactless, contact, mag stripe.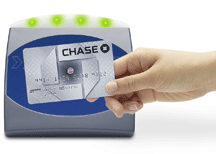 Can you walk our readers through the next year or so with regard to merchant acceptance of blink? Specifically, now we read about major merchants (e.g. 7-11, Arby's) signing on, but eventually acceptance will need to spread to smaller merchants and become ubiquitous. How will this occur?
Because the POS technology has been certified (by the associations) it is standard technology and it is standard product offering for the merchant – the real implementation risks have been minimized. Associations support the messaging coming out of contactless deployments. From the ISOs to the big retailers, it is being aggressively pushed. It is already available in some markets through the ISOs and acquirers. It is quickly becoming another menu item that merchants can select in a terminal.
When we read about a merchant "signing on," are they equipping their point-of-sale terminals to accept ISO 14443-based contactless payments, or PayPass, or blink?
blink is our capability that we represent to cardholders; it is the feature that they have that enables them to make faster and more convenient payments. At the point of sale, Visa Wave and the MasterCard Paypass are the symbols – the acceptance marks. While the major payment networks have agreed on a common acceptance mark (that is expected to replace the Visa Wave and Paypass symbols), the individual association symbols are now displayed on the card backs and POS terminals.
In general, what do you think will it take for contactless payments to truly succeed in the U.S. and what would you describe as success (e.g., specific level of acceptance, usage, availability)?
Ubiquitous acceptance across all merchants – this is in process; Payment associations and brands coming together – this is already done; And how the cash pie moves around – the inroads that contactless technology can make into the current cash payments for credit and debit. Major milestones have already occurred. We have rolled out in two regions, acquirers have agreed to support it, and merchants are taking it up. And blink will be available in additional markets before the close of 2005.

And more specifically, how will JPMorganChase measure the success of blink in the near term?
It will be the same measures of success that we apply to our entire card business. Attract new customers, retain existing customers, and maximize usage – the core drivers of our business proposition.