Thinking Blink: JPMorgan Chase gets a jump on the smart card market, one blink at a time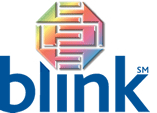 By Dee Ann Kuhn, Contributing Editor
It has a catchy name, it's convenient to use and, most importantly, it offers card members peace of mind. That's what JPMorgan Chase is banking on in promoting its Chase with "blink" contactless credit card. Chase introduced the card in June in an effort to be the first to pave the way for a national switch to smart cards in the U.S. To date, Chase has issued two million blink cards to Visa and MasterCard credit cardholders in Colorado and Georgia and it's continually adding new merchant locations to the 400-plus initially slated for the rollout.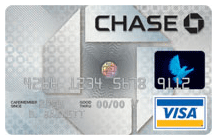 Blink uses MasterCard's trademarked PayPass technology, which allows consumers to pay for purchases by waving their card in front of a point-of-sale terminal equipped with a contactless reader. Essentially, blink looks like a credit card, offering cardholders the same security features while allowing for quick, easy payment – the PayPass technology, claims promoters, can shave up to 20 seconds off traditional transaction times.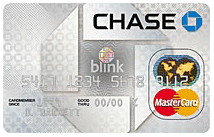 Chase chose to introduce blink as a standard credit card featuring a magnetic-stripe and embossed account and cardholder information so users would need only one card for traditional credit and contactless transactions. But key to blink's charm is that cardholders never have to turn the card over to someone else in order to conduct transactions. Blink is embedded with an integrated circuit chip that communicates with a contactless-ready payment terminal. The technology allows for a short read range which enables cardholders to wave their cards within four inches of the POS terminal. For today's identity-theft conscious consumers, that can bring peace of mind.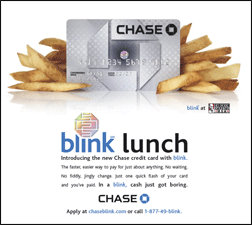 Marketing and education to determine the future of contactless payments
By marketing its new payment vehicle "blink," Chase hopes to differentiate the card's brand name (blink) from the contactless chip technology (PayPass) and method of payment symbols (Visa and MasterCard) at the point of sale. "Blink refers to what the card does. PayPass refers to where to use it," explains Tom O'Donnell, senior vice president, Chase Card Services.
But will the specific branding of blink and its future competitors lead to confusion among consumers in the market looking for merchants who will accept their brand of contactless credit? Perhaps, but as the first adopter of the technology, Chase plans to capitalize on blink, not only as a brand name but also as a safe and secure way to pay.
Dove Consulting's Chris Allen, senior manager, says he doesn't see distinct brand names for the contactless cards as being a hindrance to acceptance or adoption of the technology. From a cardholder perspective, "there may be some confusion at first, but consumers were able to figure out the whole PIN versus signature-based debit concept. The key is in how Chase educates its consumers."
In addition to television, radio and print advertising as well as card mailers, Chase developed an interactive web site, chaseblink.com, to educate users on the benefits of the card. The site explains how and where customers can blink as well as lists promotional discounts by select merchants when cardholders choose to blink their transactions. For example, users can blink a drink at 7-11 stores, blink lunch at Arby's restaurants and blink a flick at United Artist theaters.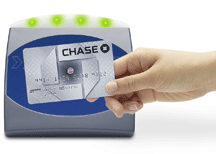 Making a decision to become the 'first to leap'
According to O'Donnell, Chase's smart card initiative was a natural extension of its credit card business, which currently has more than 94 million cards in circulation. So when Visa announced in May that it had agreed to adopt MasterCard's PayPass ISO 14443-certified technology in an effort to share a common communications protocol for RF-based payment at the point of sale, Chase moved forward. The ISO 14443 standard allows retailers to use a single terminal to accept smart cards from Visa, MasterCard and American Express (American Express launched its ExpressPay contactless key fob program in 2004 and has recently announced that its Blue cards would now incorporate the ExpressPay technology).
Industry observers see Visa's and MasterCard's move to cast aside their long-time association rivalry as determination to become dominant players in the next generation of payment technology in the U.S. Unlike elsewhere around the world, the banking industry here has made slow progress in migrating from magnetic-stripe to chip cards. "There are a number of issuers interested in this (contactless cards), but Chase has the most experience," says Allen.
The launch of blink follows on the heels of a PayPass market trial in Orlando in 2003 involving Chase, Citibank and MBNA as well as 16,000 cardholders and 60 retail locations. That test, coupled with MasterCard's ongoing PayPass alliance with McDonald Corp., demonstrates that the convenience and security of contactless end-to-end transactions appeal to U.S. consumers. To date, 7,500 McDonald's restaurants accept PayPass cards and the fast food chain announced plans to expand acceptance to some 13,600 U.S. restaurants by year end.
Geographic approach to a nationwide rollout
Key to blink's expansion is the synchronization of card issuance and merchant acceptance on a market by market basis. With already one million cards in the hands of customers in each of the two launch markets, Chase is poised to shop for new markets to introduce blink. O'Donnell wouldn't reveal specific locations but said the payment versatility of blink would open the door for debit applications in the future. KeyBank, however, beat Chase to the punch when it recently announced it will issue PayPass-enabled debit cards beginning September 1 to KeyBank's new and existing checking account customers.
For now, Chase is enjoying its position as the first bank card issuer to offer contactless credit and is encouraged to see its cardholders using the card for both traditional credit purchases as well as blinking their transactions. "This is really the first major introduction to credit cards in 30 years, since the introduction of magnetic-striped cards. People can see the benefits right away and others will move up to the curve as they understand its value," acknowledges Chase's O'Donnell. "It demonstrates a significant change in how people use their plastic. It benefits the customer, the merchants and the card companies, as well."
Dove's Allen agrees, "As soon as consumers realize they can just tap and go, contactless is really going to take off."
---
Additional resources:
To take an interactive tour of 'blink' on the web, click here.