Competition for student dollar to heat up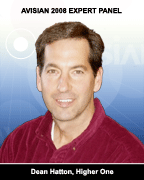 Dean Hatton
President and CEO
Higher One
It has become increasingly clear that competition from the private sector will require institutions of higher education to continue to improve how they compete for students while also increasing operating efficiency. In order to accomplish this, colleges and universities have partnered with companies that can help the school deliver non-academic services. As an increasing number of institutions experience success with these companies, this trend will accelerate.
Recent news about the student loan controversy has led to overall market uncertainty. However, in order to become more competitive, institutions will work to find appropriate and responsible ways for companies to work with higher education institutions and with students. As we enter 2008, the focus of the recent dialogue should move away from a retread of past industry transgressions and move more toward instituting guidelines regarding corporate transparency within higher education.
As the industry develops these guidelines and reaches out increasingly for partners, one area that will experience strong growth is general financial transaction processing. As tasks of this nature are not core to an academic education, and can often be done best by experts whose only focus is providing these services, growth of these partnerships will be explosive.
Specifically, in the area of refund management, we anticipate that there will occur a time in the near future when the paper check is no longer an acceptable method of distribution and has been eliminated by companies like Higher One. Institutions will no longer be able to ignore the cost savings that they can experience with electronic disbursement of refunds and student demand for such services will continue to grow.
From the student perspective, we believe that financial institutions should continue to provide services and products that offer students choice and more importantly, the means to become financially responsible adults. Students, who lean heavily on their financial aid refunds to cover their back to school costs, embrace electronic disbursal due to the speed at which they receive their money. This can be taken a step further, as in Higher One's case, by providing students with an optional account linked to a debit card. When managed appropriately, debit cards offer students tremendous convenience and flexibility and can be an important pathway to fiscally-responsible adulthood.
Refund or ID card-based banking and refund management programs are a growing trend throughout the industry and university administrators across campuses nationwide are continually looking to provide their students with better service and faster distribution of refunds while further streamlining this business process.
We think that there is great value to higher educations institutions in working with companies such as Higher One, to increase service to students while providing a product that university administrators know serves students appropriately.
---
About the AVISIAN Publishing Expert Panel
At the close of each year, AVISIAN Publishing's editorial team selects a group of key leaders from various sectors of the ID technology market to serve as Expert Panelists. Each individual is asked to share their unique insight into what lies ahead. During the month of December, these panelist's predictions are published daily at the appropriate title within the AVISIAN suite of ID technology publications: SecureIDNews.com, ContactlessNews.com, CR80News.com, RFIDNews.org, FIPS201.com, NFCNews.com, ThirdFactor.com, and DigitalIDNews.com.