Contactless payment makes its biggest debut yet with London Launch
Barclaycard secures major advantage via exclusive deal with transit's Oyster Card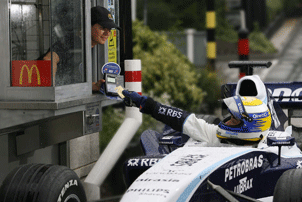 By Andy Williams, Contributing Editor
In London, MasterCard and Visa are in the midst of the world's largest contactless card launch to date but a smaller roll-out may have Londoners more excited as it involves their popular Oyster card. The Oyster card, which they use to ride the rails and buses, has been combined with a contactless and EMV-compliant credit card.
The bigger rollout, nicknamed the London Launch, has both credit card giants already rolling out cards in London that, by the end of 2008, are expected to blanket the UK. The contactless portion of the cards will handle payments of £10 or less.
"Europe has lagged behind Asia and the US when it comes to contactless payments, but the stage is now set for adoption," senior analyst Jonathan Collins, ABI Research, commented during release of a recent study about contactless payments.
According to the UK payments association, APACS, five million contactless cards are to be issued across the country for use at 100,000 retailers by the end of 2008. It also announced participation from eight banks, including Bank of Scotland, Barclaycard, Citi, Euroconex Technologies Ltd. (now Elavon Merchant Services), Halifax, HSBC, Lloyds TSB and Royal Bank of Scotland Group (RBS).
Visa, in its rollout, lists five European banks–HSBC Bank, HBOS, Lloyds TSB, RBS and Barclays – that began issuing Visa payWave cards this fall. Visa payWave is the name for the company's contactless card that is now seeing use in Europe, the U.S., Asia, and Latin America.
At the same time as these launches, Barclaycard announced its new multifunction Barclaycard OnePulse, developed in partnership with the public transit operator, Transport for London, and the Oyster card operator, TranSys. Barclaycard OnePulse features three separate functions on a single card – Visa payWave contactless technology for purchases of £10 and under, the standard Chip and PIN (EMV) credit/debit card capability for larger purchases, and the Oyster transit fare application for use when traveling around London. This is the first time that Oyster technology has been licensed to a third party.
Oyster's popularity gives Barclaycard a big boost in London
Oyster first hit the streets in 2003 as an integrated contactless smart card ticketing and revenue collection system implemented on behalf of Transport for London (TfL) by the EDS- and Cubic-controlled TranSys consortium. The Oyster card is valid on all bus, Tube, and Tramlink services, and on selected National Rail services.
Now with OnePulse, "We have travel on one piece of plastic plus credit," said Stewart Holmes, head of Barclaycard Onepulse.
"There are very few of the (OnePulse) cards out there right now but Barclays is getting thousands of applications," said Shashi Verma, director of fares and ticketing for TfL.
The whole OnePulse project took about two years from initial conversation to launch, explained Sue Doyle, Transys marketing director. The trial itself lasted about four months. "We previously had technical trials to make sure the technology side actually worked," she said. "There were no problems technology-wise…(it) works perfectly and we were able to carry on as scheduled. We wanted the card to be accessible to everyone in London. Oyster is a very natural way to include everyone on this particular product."
Two years ago, Barclays was one of four banks to compete for the opportunity to incorporate Oyster on a standard credit card. "They were chosen because they offered the best customer service," said Ms. Doyle.
"(It) was clearly a huge opportunity to seize that competitive differentiator," added Mr. Holmes. For competition's sake, Barclays felt that Oyster plus a credit card would help make the card the "first one that comes to mind" when it's time to use the credit portion of the card."
"It's still early to get any results, but we're expecting hundreds of thousands (to be issued.) We have six million Oyster cards in active use," added Mr. Verma.

Bringing on the merchants
Mr. Holmes reports that merchant reaction to OnePulse, "has been very positive. Barclays exceeded the target. We're rolling out 50 locations a day; since about June we've been on the streets signing up merchants."
About a thousand merchants had signed up by the end of summer, mostly smaller establishments, such as fast food restaurants, convenience stores and Krispy Kreme doughnuts.
The key, for both Visa and MasterCard, is signing up what Mr. Holmes calls "the first sector champions … a big drug store, big news agent that champions cashless in their business sector which will trigger competitive follow-ups from other retailers. Predominantly it has been medium or smaller size merchants right now, but some of the bigger chains are trialing it in their London branches."
Added Mr. Verma: "The fact that so many customers in London are used to using Oyster and understand the contactless payment process made it easier. In the absence of Oyster, it would have been more tricky."
Keeping straight with three ways to pay
From Oyster's perspective, OnePulse cardholders "will enjoy the benefits of Oyster, meaning cheaper, easier and more convenient travel on the London transport network, using Oyster exactly as they do today – by pre-loading pay as you go and/or a Travelcard or Bus Pass," said Mr. Verma. He emphasized that the Oyster function "is entirely separate from the credit card account, but sits on the same card." However, riders don't have to switch to OnePulse. They can still use their standard Oyster card if they choose.
"The Oyster application on the OnePulse card is no different than what's on the Oyster card. All Oyster cards can be linked to a bank account and automatically topped off when the balance falls below a certain level. You also have that advantage with OnePulse," explained Mr. Verma. "The advantage is Oyster and credit are on the same card but the two are still different."
In addition to the Oyster application, OnePulse includes Visa's contactless payWave application for purchases under £10 and coincides with the Visa contactless launches throughout London.
To handle larger purchases, OnePulse contains a third component, an EMV chip. It requires insertion into a reader along with a PIN number the cardholder must enter.
Since EMV has been in use in the UK since 2005, merchants are already equipped with an EMV, or as Londoners call it, a "chip and pin" reader. But with the introduction of contactless technology, merchants also needed a contactless reader.
Even though there's a £10 limit for contactless payments, a standard spot check might kick in. Here, a card might be randomly chosen for the user to enter his PIN number. There is also a £50 limit per day on transactions. "If you exceed that, you need to go through chip and pin," said Mr. Verma.
On the Oyster system itself, there were no upgrades required except for a few tweaks. But, Ms. Doyle explains, "a lot of amendments (were needed) to the system to make Barclaycard and transit interact with each other."
There was some coordination required among Barclays and Oyster help desks. "We had to make sure our help desk was able to talk to Barclays customers. That's not easy, it can get very involved, finding the right routing between help desks. We looked at it very carefully," said Ms. Doyle. For example, if someone has a credit card problem, he may end up calling TfL, when he should be talking to Barclays. Or, if for some reason he was blocked from entering the Tube, he may call Barclays for help when he should be calling TfL.
What's next?
First up for Oyster is extending the card to cover the main rail lines coming into London.
The next step, explained Mr. Verma, is making "EMV contactless work like New York, where you can use your PayPass card (to pay for transit fares). I'd like people to be able to use the EMV contactless card at the gate." The New York trial allows riders to use a contactless credit card–in this case MasterCard PayPass–instead of buying a ticket to enter the subway.
It could eventually mean, "getting rid of Oyster," said Mr. Verma.
However, Oyster's fare structure "is more involved than New York's. Our fare structure is dependant on distance, not the kind of thing that PayPass supports by itself. We're looking at that but it's much more complicated," Mr. Verma said.
"The big thing about EMV contactless is we have to understand that's the future. Having gotten to this point (with Oyster as the card's fare payment mechanism), we're looking at what we can do next. What we get from Barclays is an understanding of customer behavior. That's going to be important when moving to the EMV contactless world (for transit payments)," said Mr. Verma.
"Oyster has always been about making people's journeys easier and cheaper and more accessible," adds Ms. Doyle. "We're also looking at different media that would carry Oyster, like in a watch, or phone, a natural progression that would make it easier to carry the product. We're talking to customers now, conducting some research about what would make their lives easier."
From Barclays' standpoint, "the only challenge we face is in explaining the new product and getting consumers to make the natural link," said Mr. Holmes. "The big challenge is to affect consumer behavior. There have been lots of false starts … but we want to make a difference."