Londoners zip through public transit with the contactless Oyster card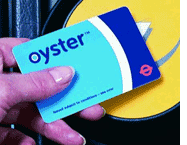 For millions of travelers using public transportation in London, a contactless fare payment card named Oyster makes the daily commute or the weekend journey easier, quicker, and more convenient. With more than 2.1 million cards in circulation and more issued every day, those behind London's Oyster card echo these benefits, attributing Oyster's popularity to its speed and the fact that its users minimize the time spent in lines.
"One of the reasons for the success of the whole roll-out was the phased approach taken," said Steve Beer, chief executive for TranSys, the consortium behind Oyster card. "We never introduced the next phase until the last one was bedded down."
A big challenge was finding a suitable name for the card. "We went through a variety of potential names before finally settling on Oyster," said Mr. Beer. "The term, its meaning, sounds and associations, were felt to reflect the core values necessary for the smart card system; security, value, longevity, plain English and true London heritage."
As Nicole Carroll, TranSys' former marketing director, now with Cubic, explained: "By branding the card, customers become emotionally attached to it."
The card was recently presented the New Media Award in the Modernizing Government category. The award, sponsored by the New Statesman magazine, is one of several honors made annually in the UK.
"We have delivered something that, in just over 12 months, has become as much of a London icon as the red bus or black cab," said Mr. Beer at the awards ceremony. "Londoners love Oyster because it is simple to use and delivers genuine benefits. Every day hundreds of thousands of customers get around London using Oyster. They take for granted the technology that underpins those journeys and for us, that is one of the greatest achievements of Oyster. Our focus now is building on the success of Oyster in London and developing a single smartcard transport ticketing medium for all UK passengers."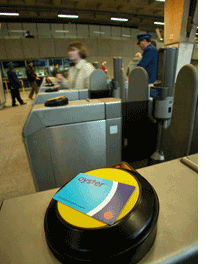 The birth of Oyster
Oyster started out small but has grown incrementally in just the last few months. In April, there were 1.4 million cards on the streets of London. Today, there are more than 2.1 million.
Oyster began in 1998 under Transport for London's (TfL) PRESTIGE (Procurement of Revenue Services Ticketing Information Gates and Electronics) project. London's transport network is vast. It serves more than 8.5 million passengers a day and covers 3,730 km (2,318 miles) of bus routes, 329 km (204 miles) of underground lines, 26 km (16 miles) for Docklands Light Railway (DLR) line, 28 km (17 miles) of new tramways and 788 km (490 miles) of National Rail lines in the Greater London area.
London Transport was looking to replace aging ticketing equipment and wanted an integrated ticketing and revenue system for its bus and underground network. Modernization was the key impetus, but there were other advantages as well: Reducing fraud, cutting down on lines at ticket offices and having more reliable ticketing machines.
"London Transport suspected it was losing about 45 million pounds ($81.2 million U.S.) a year (via people able to gain rides without a ticket)," said Mr. Beer. "We believe that the introduction of the Oyster card managed to eliminate a large part of that."
The project was set up as a private finance initiative (PFI), the aim being to create an integrated payment system for travel on London's transport network and build the foundation for a cashless network within five years. The TranSys consortium, whose principal partners are EDS (Electronic Data Systems) and CTS (Cubic Transportation Systems) raised 192 million pounds (US$346.4 million) to finance the initiative. But over 17 years, the PFI is expected to return 1.2 billion pounds (US$2.2 billion), said Mr. Beer, making it one of Europe's largest transit projects.
According to TranSys, London's transportation network "has evolved organically over more than 150 years. TranSys needed to design and build a system which met strict health and safety requirements, supported a complex, zone based pricing structure and accommodated restrictions in ticket halls designed in the nineteenth century and some listed as heritage sites."
TranSys had little to work with. There were no smart card ticketing standards in place in the United Kingdom, said Mr. Beer. "TranSys needed to 'future proof' the technology to ensure that, where possible, emerging systems around the UK could be integrated."
The TranSys consortium is responsible for the ticketing and fare collection system design, planning, infrastructure development, installation, operation and maintenance along with the production and marketing of the Oyster card.
The card utilizes an ISO standard 14443 Type A contactless Mifare® chip. Giesecke & Devrient and SchlumbergerSema (now Axalto) are the card suppliers, added Mr. Beer.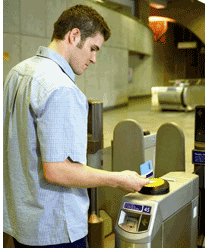 Installing the city-wide infrastructure
Installation involved 16,000 remote ticketing devices (RTD) on TfL's fleet of buses and at 255 of London Underground's stations throughout London. In addition, TranSys fitted special "Queue Buster" machines in underground stations so customers could quickly recharge their Oyster cards.
The rollout began officially Nov. 5, 2002 when 80,000 Transport for London staffers were issued the cards. That was followed the next spring with a million-card launch, said Mr.
Beer.
"We went to annual's next and then the monthly's," said Mr. Beer. "Then we launched Pre Pay, which is akin to an e-purse, in January of this year on the tube and on the buses in May."
TranSys upgraded the self-service push button ticket machines that had offered a limited range of specific tickets and only accepted cash payment. The new multi-functional, multi-lingual touch screen ticket machines enable customers to buy a wider variety of tickets, and to pay using both cash and credit/debit cards.
On the introduction of these machines, customers could also use them to recharge their Oyster cards, view journeys taken using the smart card, and check and recharge any Pre Pay stored value balance.
"What we'd like to do is introduce the ability to automatically recharge the card (when it is used)," said Mr. Beer. "Basically, when someone registers they could decide if they wished to have 'Auto-reload,' which would permit us to take money from their bank or credit card to top-up the Pre Pay value on their Oyster card when the balance falls to a trigger level agreed to by the cardholder." Currently customers can top-up at specific retailers around London. "Or they can recharge the cards via a number of machines we've installed around London, or via the web," added Mr. Beer.
Customers can also buy tickets at a large number of local retailers throughout London. Called Ticket Stops, they are small and medium sized local shops and news agents. According to TranSys, about 25% of seven-day Travelcards (season tickets) and 90% of seven-day bus passes are sold through this network.
TranSys has expanded this system of shops from 1,875 to more than 4,000 outlets, with the number expected to grow to around 5,000 next year. Some 2,200 of those shops have been equipped with the custom-built retail terminals to enable them to issue and recharge Oyster cards.
By linking all retail outlets to a central system, TfL can get a better look at how the system is performing. It can look at ticket sales, or de-personalized data can be compared with journey information to provide a more complete picture of the travel and purchase habits of customers. These stats can also help in planning future expansion.
Next phase in Oyster card deployment is a "capping of Pre Pay," explained Mr. Beer.
"Capping will cap the amount a traveler pays on any one day so once you reach your daily cap, the more you travel, the more you will save, similar to a one day Travelcard."
What is in store for the future?
As to Oyster card's future, Mr. Beer sees two likely areas of expansion. One is improving the card itself, adding more advantages, such as a stored value e-purse, allowing the card to be used like cash or for car parking and non-transport low value payments.
"We're going forward, looking at alternative ways to bring an open e-purse to it," said Mr. Beer. "We hope to be able to offer something within 18 months or two years. In the UK, there are quite stringent financial services hurdles to get through regarding e-money."
The second possible expansion route, as Mr. Beer implied during the Modernizing Government Award ceremonies, is moving the Oyster card beyond London, which creates another set of hurdles–a myriad of train companies with their own contracts and systems, and compatibility.
"This particular card is the tip of the iceberg," he said. "There isn't anything in the UK that comes close to this card. We're talking to a number of train companies around London first, as approximately 70% of journeys start or end in London."
With the success of Oyster on the Transport for London network, it gives TranSys a good start towards introducing smart card ticketing with other train operators, added Mr. Beer. But there are other issues, too. "These train operators have franchises; some are shorter than others. They have to evaluate a business case for investing in this technology. The length of their franchise and the cost and the benefit is what they're looking at now."
As to the compatibility issue, the United Kingdom has a body called ITSO (Integrated Transport Smartcard Organization) seeking to develop one standard.
"TranSys is a member," said Mr. Beer. "When we introduced PRESTIGE Oyster, ITSO was trying to define a standard for smart card ticketing, so someone could start at the very north and travel on multi-modal transport to the south with one card ideally. While we were developing the system for our client, ITSO was developing the standards to benefit us all long-term. We're now working towards making the Oyster system interoperable. It is probably less of a technical issue than a monetary issue," he added. "We have Oyster with all its devices to support London. To make it interoperable, someone would have to fund the change."
In the meantime, London still remains the focus for Oyster. As PRESTIGE Director Peter Whicher put it: The PRESTIGE project, "with Oyster as its 'pearl,' is one of the most innovative things to have happened in London's transport for many years. It is an undoubted success and over two million Oyster-carrying Londoners prove this to be the case."