One year after nationwide launches, big three U.S. payment card brands remain bullish on contactless


By Andy Williams, Contributing Editor
After two-plus years of pilots in various parts of the U.S., each of the big three credit card providers rolled out their own contactless payment version last year. So, after a year in operation how are things going?
Actually, since the pat answer from all three is "very well, better than expected, etc." the better question would be, what's next? A lot, as it turns out, from different form factors, including watches, to use of mobile phones as a payment medium, to tapping and going your way through the New York Metro turnstile.
None of them are resting on their laurels, so to speak. They are keenly aware that the 17-plus million contactless cards that have been issued by MasterCard, Visa, and American Express still represent a small minority of credit cards in use.
Predictably, contactless payments are following a similar pathway that regular credit cards took when they were first introduced. Credit card companies–and card users–proceeded cautiously then, as they are now.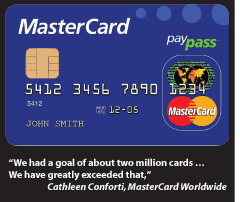 While MasterCard, Visa, and American Express all conducted successful pilots in 2002-04, it took a "foundational event" to open the floodgates, said Visa USA's Brian Triplett, senior vice president for emerging product development. That's when the three decided on a single ISO 14443-compliant system … laying the foundation for point-of-sale equipment to handle contactless cards from all three. "That convergence as well as the pilot tests were there for all key stakeholders to observe," he added. "That gave everyone the initiative to put some effort behind it."
Last year, all three launched their contactless payment brands nationally.
To date, MasterCard has issued some 10 million PayPass cards globally. In addition, said Cathleen Conforti, global PayPass product manager for MasterCard Worldwide, some 32,000 merchants have signed up to accept PayPass. The company, she said, doesn't release individual country statistics, but the PayPass program is in available 13 countries. "We had a goal of about two million cards … We have greatly exceeded that," she said.
Visa has issued some five million cards and American Express about two million.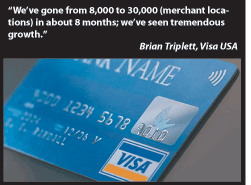 Merchants include fast food restaurants (McDonald's), convenience stores (7 Eleven and Sheetz), pharmacies (CVS), movie theaters (Regal Entertainment Group), and camera stores (Ritz Camera Centers), most which customize in speed, which makes contactless a natural fit.
While the original credit cards capitalized on a "buy now, pay later, sometimes much later" philosophy, contactless cards are going after cash. While contactless won't spell the end of coins and dollar bills–at least in the foreseeable future– it is tying in with what appears to be the consumer's desire to carry less currency. A recent survey commissioned by MasterCard shows that growing numbers of U. S. consumers are using less cash in favor of alternate payment methods, such as credit and debit cards. The Consumer Payments Survey conducted by Ipsos, was designed to gauge national attitudes towards the use of cash versus alternate payment methods, as well as to determine consumer interest in using new technologies, such as contactless payment technology, said Ms. Conforti.
According to the survey:
Nearly half (49%) of respondents said they carry less cash today than they did five years ago.
60% had only $20 or less in cash on-hand, an 11% jump compared to 2003 figures.
Three out of four said they no longer believe it is necessary to carry large amounts of cash.
More than six in 10 (62%) use cash less often for purchases.
Equally intriguing, MasterCard's own internal data suggests that customers use their credit card 18% more frequently once PayPass is enabled. Though PayPass technology can also be used for transactions exceeding $25 (at which point a signature or PIN is required for verification), roughly 75% of all PayPass transactions were for purchases below $25 and approximately 45% of all PayPass transactions were for purchases below $10.
According to MasterCard's review of PayPass users' performance, PayPass provided a:
36% increase in usage per account.
45% increase in total transactions per account.
230% increase in usage at PayPass merchants.
270% increase in the number of transactions at PayPass merchants.
No wonder the merchant base for contactless is growing.
"After our early research, we started with the merchants. They were seeing consumers move thru the line quicker," said Ms. Conforti. "Banks have the opportunity to put in their customer's hands a card for places where they normally have to use cash. And consumers do like the fact they don't have to hand this card over, they can hold onto it during the transaction process," said Ms. Conforti.
"You always want to make sure consumers and merchants are educated … how you use it, where you can use it," she stresses. "Our national awareness has increased 200 percent. Consumers are getting the message."
Visa focuses on the top-20 metropolitan areas
Visa's marketing strategy has been to concentrate on the U.S.' 20 major demographic areas, in other words, the largest metropolitan areas. In fact, the three credit card companies initially concentrated their roll-outs on the east coast. It was just recently that contactless came to the west coast when Wells Fargo began issuing contactless cards tied to Visa.
"As we bring more cards to market, merchants sign up as well," said Mr. Triplett. "We have to work together, which is why we're focusing on the top 20 demographic areas and building from that."
Mr. Triplett said Visa is "actually ahead of where we thought we'd be a year ago with 30,000 acceptance locations. We've gone from 8,000 to 30,000 in about 8 months; we've seen tremendous growth."
In fact, he added, "the adoption rate is the fastest we've seen for any new technology. I do expect we will continue to see significant growth; whether it's double or triple we'll have to wait and see."

Signing merchants is key to American Express strategy
American Express has issued more than two million contactless Blue Cards according to latest figures (February 2006), said public affairs office spokesperson Rosa Alfonso.
American Express began adding its contactless payment feature, called ExpressPay, to Blue cards in June 2005 following pilots in Phoenix, Arizona, New York and Singapore. The tap-and-go feature on the Blue card got a big boost last month when McDonald's Corp. announced that it would accept ExpressPay at its 12,000 restaurants, said Ms. Alfonso. "We've definitely grown. The focus has been on the U.S.," she added.
While ExpressPay is only being issued to card members as their card comes up for renewal, truth is "anyone who wanted it could call us up and request it," said Ms. Alfonso.
She said the company is "very pleased with the momentum that ExpressPay has generated. Right now, we've focused on signing up more merchants."

Focusing on benefits helps fuel consumer and merchant acceptance
Transaction speed obviously has been the biggest selling point. Witness MasterCard's latest TV advertisement featuring Olympics silver medalist Meb Keflezighi making pit stops during a marathon he is running, using his MasterCard PayPass to make fast purchases, said Ms. Conforti.
"Unattended transactions" is what contactless payments are all about, said Mr. Triplett. "In the traditional world, you have to run a mag stripe thru a reader. Plus, maintenance is a lot more intensive."
Said Ms. Alfonso: "We're focused on speed and convenience, customers making smaller purchases and doing it fast. They're in and out quickly."
ExpressPay requires no signature, but the merchant can opt to require one, she added. "It's designed to be flexible." With Visa and MasterCard, there's usually a $25 limit before a signature is required, or the merchant must accept responsibility if the card turns out to be stolen.
American Express stats, said Ms. Alfonso, show ExpressPay with no signature is 53% faster than cards and 63% faster than cash.

"Opening doors" for new payment card uses
Contactless also opens more doors, "allowing us to put those terminals in new places," said Mr. Triplett. "We're laying the foundation to use the contactless infrastructure we've put in place. It's opening up a lot of opportunities of ways to pay and places to pay."
For example, fans at some pro baseball and football stadiums can use their contactless cards to make concession purchases, speeding up the purchase process.
MasterCard Worldwide is also piloting a six-month contactless project with the Metropolitan Transportation Authority, New York City Transit, Citi Cards, and Citibank at select New York City subway stations. Pre-selected people can use their Citi credit card to access selected subway trips.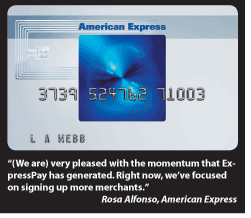 Contactless has also made its way to other form factors–key fobs, basketball or football-shaped fobs, even watches.
ExpressPay key fobs are available on request, said Ms. Alfonso. "Everything we do is about choice. A mother with three children might prefer the key fob because it's easier to get to. Me, I prefer the card. Bottom line is we have both options available depending on the user's preference."
Visa is also examining alternative form factors, said Mr. Triplett. "Consumers are most comfortable with the card product they already have. Once they get comfortable with the technology, they'll be more comfortable with other form factors," he said. "We're looking at 2D form factors, like a mini card, or a tag, or something similar to a card and others with different 3D shapes, such as a circle or a football. When Visa rolls anything out, we want to make sure it's commercially viable. There's also a lot of education that has to go into that."
Both Visa and MasterCard are also involved in near field communication pilots that allow cell phones to be used as contactless payment cards. "We're actively engaged into seeing how this can be brought to market," said Mr. Triplett.
"A mobile phone is something you always have with you," said Ms. Conforti. "One thing about this is coming up with a cost-effective way to get PayPass into phones, how we can do it on a scalable basis."
Besides transit and mobile phones, MasterCard is piloting a vending machine project in Philadelphia. In effect, any small purchase medium is fair game. "PayPass is an opportunity to displace cash for small-ticket items," said Ms. Conforti.
"PayPass cuts across many programs," she concludes. "I can't think of anything in my lifetime other than debit where we changed the point of interaction."