Cubic adds touch-screen video display to ticketing machines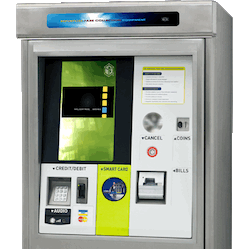 Cubic Transportation Systems has announced that it is integrating new touch-screen video displays into its next generation ticketing machines for public transit.
According to Cubic, the new technology permits transit agencies to show video advertising, information, marketing, maps and other messages directly at the point of purchase.
When touched by a customer, the screen automatically launches the user interface for purchasing or adding value to a fare card. After a pre-set period of inactivity, the screen defaults to advertisements or other informational screens defined by the transit agency.
The screen also supports glasses-free 3D advertising and features a new interface that allows customers to zoom in and out using multi-touch technology.
The video display can be purchased with a new ticketing machine or integrated into existing Cubic models, according to Pradip Mistry, vice president of engineering for Cubic Transportation Systems.
"Transit is used by millions of people every day, and with our products serving as the primary 'touch point' for these customers to purchase and pay their fares, this enhanced capability helps to drive more useful information in real time," added Mistry.
According to Cubic, the company has integrated more than 4,200 ticketing machines throughout North America, the United Kingdom and Australia.