DAZZLE fashion equips item-level RFID with UPM inlays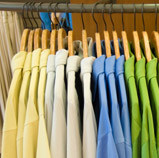 International fashion brand DAZZLE has implemented an item-level RFID project in their China retail chain using UPM RFID inlays. The fashion brand collection will carry hang tags equipped with UPM ShortDipole and UPM Belt RFID inlays to improve supply chain and sales channel management.
With the item-level RFID system in place, the DAZZLE fashion group aims to improve efficiency and optimize shipping and receiving operations, and improve inventory accuracy.
Using handheld RFID readers, retail shop personnel can also easily check inventory levels to improve on-shelf availability and replenish of sold-out items.
At its warehouses, the company will use trolleys with RFID readers to confirm that the right apparel has been selected. Once delivered to each store, every box will be read and verified, further enabling accuracy and efficiency of storage, and EAS functionality will also support anti-theft purposes.
In addition, a combined RFID reader and antenna at the checkout will permit multiple garments to be scanned simultaneously for fast customer service. At the next implementation phase, DAZZLE will develop RFID-enabled smart displays that show customers' purchases, provide product information and offer matching accessories in interaction with the customer.