Denver gets things rolling with RFID-enabled bike share program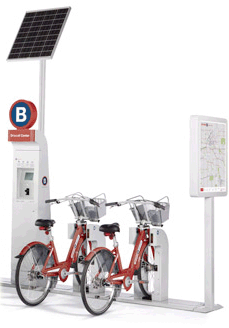 Denver recently launched the B-cycle project, providing commuters and tourists with a means of zero-emission transportation. The city has 500 bikes, with more than 50 RFID-enabled B-stations throughout the city, according to a release from SourceJuice.
The B-stations include locking bike racks and a kiosk similar to an ATM, which enables users to purchase a short-term, 24-hour membership.
For extended durations, users can go online and get a bike for a seven or 30-day period; or there is also an annual membership. Those who purchase these durations receive an RFID card, or B-card, which can used to retrieve any bike from a station.
The cards each contain a passive low frequency RFID inlay, operating at 125 kHz and compliant with the protocol used by EM Microelectronic's EM4100, EM4102 and EM4200 RFID chips.
To unlock a bike, a user approaches the station and presses a button next to the bicycle he or she wants to use, which then activates a RFID reader embedded in the rack. The user's information is relayed to a central B-cycle database to confirm the user's account is in good standing. If so, the user receives audible feedback that the bicycle is unlocked and a green light next to the bike flashes.
Before each bike is removed, the reader collects the ID number encoded to a similar RFID tag attached to the bike. The device then forwards this number to the central database, so that the system knows which particular bike to associate with which user.
B-cycle LLC also hopes to offer users a phone-based application so they can utilize cell phones equipped with near field communication modules to access B-cycles at the stations.
To get the full story click here.