San Antonio's wheel of a deal, bike share program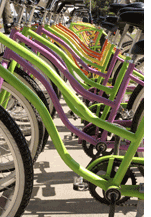 The City Council of San Antonio has approved an RFID-enabled bike sharing, rental and tour program, according to a local news report. B-Cycle, who also supplied a similar system in Denver, will supply the system that consists of locking bike racks and a kiosk similar to an ATM, which enables users to purchase a short-term membership.
Serving residents and visitors, the initial program will consist of 140 bikes at 14 locations that will be supported by a central hub.
To get a bike users press a button next to the bicycle they want, which then activates a RFID reader embedded in the rack. The user's information is relayed to a central B-cycle database to confirm the user's account is in good standing. If so, the user receives audible feedback that the bicycle is unlocked and a green light next to the bike flashes.
Before each bike is removed, the reader collects the ID number encoded to a similar RFID tag attached to the bike. The device then forwards this number to the central database, so that the system knows which particular bike to associate with which user.
To read more click here.