e-ID Goes Mobile: The future of identity verification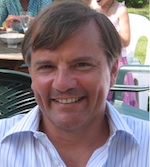 There are currently more than 60 countries issuing e-passports globally, with Mongolia and Israel the most recent to announce deployment plans. The majority of e-passports however, along with other travel documents such as airport boarding cards, still operate on plastic or paper-based documents.
E-passport authentication is mainly conducted by scanning machine-readable zone, while boarding cards utilize traditional bar or quick response codes. In the Schengen zone however, rules have been relaxed so that airlines no longer need to control identity with a physical human check. This has opened the door for electronic ID verification. Teamed with the increased use of near field communication-enabled mobile handsets, we are starting to witness a growing trend towards using smart phones as identity credentials, a trend which is expected to gain traction over the coming two years.
The key appeal of a mobile-based solution is its ability to become a multi-factor verification platform by harnessing the attributes of a secure chip, whether that is an embedded secure element, UICC or smart microSD card. The device can then authenticate a person's ID with one-time passwords, biometrics and digital certificates, dependent upon the security requirement of a specific application.
One market taking full advantage of this technology is the travel document sector. Airlines such as British Airways, Finnair and Lufthansa, amongst others, have already implemented boarding passes for use on mobile phones. Flight operators have found that these help to streamline administration, reduce costs and improve efficiencies.
At the same time, end-users benefit from a user-friendly and convenient experience, as their travel itinerary can easily be managed on their mobile handsets. In terms of national security, higher levels of identification, achieved through the secure chip-based mobile application, further support efforts to reduce fraud and secure borders.
What needs to happen to achieve widespread adoption?
Over the coming five years, the following will be key to the mass-scale use of mobile devices as ID credentials:
User acceptance: User demand needs to be generated to drive issuers forward in deploying mobile-based solutions. Mobiles are widely deployed, however users need to experience value added services, delivered by mobile applications, in order to drive trust and acceptance for the use of mobiles as identity credentials.
Security: A secure area of the mobile must be defined to support sensitive and personal ID credentials. As mobile phones are at the heart of converging services and applications, this is crucial to ensure that access to individual applications can be restricted, managed and therefore, protected.
Interoperability: Harmonization of technologies across sectors is fundamental to the success of mobile ID credentials. National, international, scheme standards and specifications need to be developed and adhered to, in order to ensure a product or solution is compliant to relevant industry and market requirements. This is vital to ensure that a solution will perform in the marketplace as intended.
Central to the development of mobile ID credentials will be having a secure device that is trusted by issuers, governments and end-users alike. This can only be achieved through the compliance to standards. A common framework must therefore be agreed, not just for today's technology pioneers, but for the on-going investment in technology advancement.
What is the future vision?
At FIME, we expect to see more standards, specifications and compliance programmes in place to bring the converging markets together and achieve technical interoperability and usability. NFC-enabled devices will grow in popularity and an increasing number of value added applications, such as transport and ticketing, will be launched.
These two elements combined will change the way end-users view their mobiles and increase public acceptance and affinity to using mobile devices for services other than calls, texts and emails. With the technology in place and perception of ID changing, it is only a matter of time before the mobile replaces traditional plastic and paper-based ID documents completely.
About the AVISIAN Publishing Expert Panel
At the close of each year, AVISIAN Publishing's editorial team selects a group of key leaders from various sectors of the ID technology market to serve as Expert Panelists. Each individual is asked to share their unique insight into what lies ahead. During the month of January, these panelist's predictions are published daily at the appropriate title within the AVISIAN suite of ID technology publications: SecureIDNews, ContactlessNews, CR80News, NFCNews, DigitalIDNews, ThirdFactor, RFIDNews, EnterpriseIDNews, FinancialIDNews, GovernmentIDNews, HealthIDNews, FIPS201.com, IDNoticias es.