E-nnovation in 2007: The e-wallet, e-passport, e-pedigree will bring greater security and convenience to consumers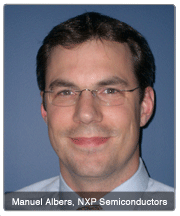 Part of the AVISIAN Publishing Expert Panel series to be published throughout December 2006
Manuel Albers, NXP Semiconductors
From ultra thin smart card ICs that are finer than a human hair, to infusing an extra layer of patient safety to pharmaceutical products, 2007 will bring the development of contactless and RFID technologies closer to the consumer.
We have long been familiar with the fact that customer adoption is key, and the goal of our technologies is to deliver simplicity, security and the most innovative designs to our customers. In 2007, I think the focus will be on three key technologies that will change the way consumers go about their everyday lives.
Consider the mobile wallet. With more than 225 million mobile phone users in the United States alone, it's only natural for consumer payments to extend to this device. Once adopted, the benefits for contactless payment are obvious: speed of transaction for merchants, convenience for consumers and the use of smart objects instead of traditional cards as a marketing tool for banks.
NXP believes that, as we move forward, credit cards and mobile payments will coexist. Online banking and traditional credit card payments will reinforce the trend of contactless payments, creating an environment where credit cards and mobile payments will fortify the habits of the connected consumer. The tap of a phone to pay for transport or the ability to scan an advertising poster for more product information will change the way we transact digitally. I think we will increasingly see cities in the U.S. adapting mobile payments for public transportation, offering speed and convenience to the rider. Atlanta, Boston and Houston are already planning to adopt mobile payments for public transportation in the coming year via NXP MIFARE technology, which is also being used in several Latin American countries for public transport installations.
Fueling the growth of contactless payment is Near Field Communication (NFC). I believe 2007 will be the year that sees NFC specifications made available on high- to medium-end phones. NXP is working with handset and consumer electronics manufacturers, carriers, financial institutions and service providers to build the ecosystem for NFC.
Educating the industry and value chain players about NFC and how it can drive value to consumers, merchants, and issuers will be a key challenge in the coming months.
Another trend to watch is the compliance-driven market for RFID in the supply chain, compelling the healthcare industry to seek advancements in tracking technology. One prime example of this is the electronic pedigree, an electronic quality seal for drugs to authenticate product origin as mandated by various government entities. The World Health Organization estimates that counterfeit drugs cost the industry more than $35 billion a year. In response, RFID technology provided by NXP and others is being used by healthcare, pharmaceuticals, and medical equipment providers in attempts to eliminate counterfeit drugs.
Finally, e-government solutions, such as e-passports or ID cards, will focus on providing scalable and secure platforms for designers. The significance of innovative design in smart card ICs that are finer than a human hair or a sheet of paper underscores the response to key security agendas from global governments. NXP is playing a critical role in this area and currently powers 30 out of 36 e-passport programs around the world, including the U.S.
Critical to 2007 is for the industry to focus on innovation surrounding its key strengths. It must also meet the market demands for effortless transactions while creating more secure government ID programs.
Near Field Communications News and Insight
Explore more developments dealing with the implementation of Near Field Communications, a short-range wireless technology that promises to revolutionize contactless identification, payment, access, and more.
Click to visit NFCNews
.