E-Passport trial underway at San Francisco airport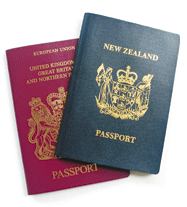 Tests include newly-issued documents from New Zealand and Australia
By Andy Williams, Contributing Editor, AVISIAN Publications
Global electronic passport usage moved ahead as trials got underway in San Francisco in January, following similar tests at Los Angeles International Airport last year. This latest multi-country test – involving New Zealand, Australia, Singapore and the U.S. –revolves around a contactless chip-enabled passport that is expected to increase security for those entering the U.S. while speeding up entry procedures. Participants include citizens of Australia and New Zealand who have already been issued the new e-Passports, as well as Singapore Airlines crewmembers and U.S. diplomatic e-Passport holders.
The 90-day San Francisco trial is scheduled to conclude on April 15, 2006. The Department of Homeland Security is overseeing the tests. According to its spokesperson, Kimberly Weissman, they are testing the security feature known as Basic Access Control (BAC), a process designed to help prevent the unauthorized reading, or skimming, of information from e-Passports. "BAC protects personal privacy," she says.
Frank E. Moss, deputy assistant secretary for Consular Affairs, in a presentation to the U.S. House of Representatives Homeland Security Committee last year, said: "ICAO recently identified BAC technology as a best practice for passport security. BAC technology will prevent the chip from being read until the passport is opened and its machine-readable zone is read electronically. This will serve to unlock the chip and permit the chip and reader to communicate through an encrypted session."
Basically, the machine-readable zone (MRZ) of the passport is scanned and a key is created based on its contents. This key is then used to authenticate the passport before any of the passport holder's information is transmitted. Using BAC, no personal information can be transmitted via the contactless interface unless the passport has been purposefully opened and its MRZ read and authenticated.

Specifics of the San Francisco trial
"We're working with Australia and New Zealand because (some) citizens have already been issued the passports," said Ms. Weissman. So far, about 70,000 passports have been issued to New Zealand citizens, along with airline crews from Singapore.
The New Zealand passport is supplied by Canadian Bank Note Company. It uses the Philips SmartMX e-passport chip. The new passports were first issued in November 2005 and contain the holder's biographic information and a biometric identifier, in this case a digital photograph, embedded in a contactless chip.
Describing the LAX and San Francisco trails use of the New Zealand passport, Philips' spokesperson Jim Sheire, noted, "these are some of the first that have been used in the U.S (and) we have learned that the technology is vetted, it is an excellent choice for passports, and e-passports are on the way."
Five inspection lanes at San Francisco Airport are equipped to handle the new passports for the trial. "We're testing how the new readers operate," says Ms. Weissman. The readers deployed for the trial are from 3M and Viisage.
Passengers are provided information explaining the new system and where they're to go to present their e-passports. According to Ms. Weissman, "all is going well, from what I understand."