EarthSearch develops oil pipeline monitoring solution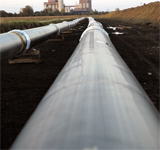 EarthSearch Communications announced development of an oil pipeline monitoring system based on its proprietary GPS/RFID technology.
The solution is centers around the EarthSearch LogiBoxx integrated GPS/RFID system, which can be deployed along oil pipelines to communicate with sensor based RFID tags. The system communicates via GSM networks and is solar powered, which allows it to operate in some of the most remote areas surrounding the world.
Nations and oil companies can monitor tens of thousands of kilometers of pipeline remotely using sensor technology integrated with the EarthSearch proprietary GPS/RFID. Any tampering with or attempt to break into the oil pipeline will cause the sensor technology to send an alert to EarthSearch's LogiBoxx system via radio frequency.