FEIG ELECTRONICS releases gates to beautify RFID applications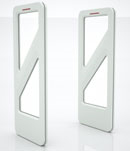 Feig Electronics announced its new line RFID gates which focus more on the design aspect to provide more aesthetically pleasing options for libraries and businesses alike.
The three RFID gates, the Solid, Clear and Crystal Gate all provide 3D reading performance within an internal diameter of 130 cm. Each possess their own unique design that can be even further customized to meet the needs of the organization.
The FEIG gate features antennas which can be installed in various locations within a building, including entrances, exits, corridors and staircases, and can be used in automated accounting, return terminals, sorting systems, automated inventory tracking and theft prevention.