Frick unveils RFID floor tags for warehouse operations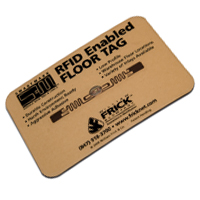 William Frick and Company announced the development its new RFID-enabled floor tags for improved warehouse operations.
Tough enough to drive over with a forklift, the Frick floor tags mark a location in a warehouse or distribution facility to automatic data collection and inventory control. The permanent 3M adhesive binds to most object, including low surface energy coatings, paints and concrete.
The ultra-high frequency EPC Class 1 Gen2 tag is four by six inches and flat enough for floors, walls and similar flat surfaces. It features integrated circuitry from UPM Raflatac and operates on the global frequency of 860 – 960 MHz within temperatures ranging from -40ºF to 185ºF (-40ºC to 85ºC).