Understanding RFID Part 2: Investigating active tags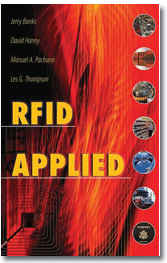 By Jerry Banks and Les G. Thompson, co-authors of RFID Applied
In the previous article, "The principles of RFID: Hardware Basics," we discussed the key hardware components found in most RFID solutions. This article will focus on the active tag, an RFID tag that has an onboard power source. This power source is, in most cases, a coin cell battery that can be found in many different types of electronic gadgets. The battery extends the functionality of the RFID tag so that it can be used in a multitude of new applications due to the boost in transmission power and the ability to integrate and power circuitry in the tag beyond that in a passive tag.
The EPC specification defines battery-assisted tags as Classes 3, 4, and 5. EPC Class 3 tags are battery assisted, but they communicate using a method called backscattering. Backscattering is the same method used by passive tags. Backscattering will be covered in more detail in a future article on passive tags, but, in short, it is a method of communication by which the tag transmits data to the reader through a transmission that originated from the reader. EPC Class 3 tags are also known as semi-active tags because they do not use a battery to power their transmissions. They only use the battery to power the tag's circuitry.
EPC Class 4 and 5 tags use active transmission communication methods. This means that the transmission originates from the tag. Tags can transmit much farther using active transmission communication methods as opposed to backscattering. The most common type of active tag is the EPC Class 4 tag. EPC Class 5 tags can also act as an RFID reader, and may even be powered through a wall outlet as opposed to a battery.
EPC Class 4 tags usually transmit on a regular cycle. This is known as the beacon rate of the tag. The beacon rate can be sub-second to several minutes. The application governs the beacon rate. The period of the cycle is set when the tag is manufactured and, for some tags, can be set dynamically in the field. Regulatory organizations, such as the Federal Communications Commission (FCC) in the United States, control how a tag's transmission must behave. Most regulatory agencies have four basic parameters that can be tweaked to meet the RF transmission guidelines for the respective agency. The four parameters are frequency, power, duration, and cycle. In most cases, increasing one may require a tag manufacturer to decrease another. For example, a tag that transmits for a longer period of time may need to decrease its transmission power to meet the regulatory rules. Also, note that a tag that beacons every two seconds will have a battery life that is as much as twice as long as a tag that beacons every one second.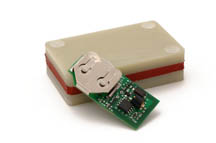 It is important to mention a subclass of EPC Class 4 tags called the semi-active tag –which is not to be confused with the semi-passive tag mentioned earlier. The semi-active tag communicates using active transmission methods. The difference between the semi-active and the standard EPC Class 4 tag is that it only transmits when it is queried or interrogated by a reader. Once queried, the semi-active tag can transmit the same distance as the standard EPC Class 4 tag. Semi-active tags may have longer battery lives when compared to other types of active tags because they are not constantly transmitting on a regular cycle. The drawback is that semi-active tags must be close enough to a reader to be queried before they will transmit. This stipulation results in a loss in transmission distance in many cases.
How do you pick out an active tag that is right for your project? First, create a list of all of the requirements for the tag. The following is a list of some tag characteristics to keep in mind:
Tag size
Carrier frequency
Target deployment environment
Tag density
Definition of RF coverage
Beacon rate
The tag size matters. If the tag is as large as a book, it will not be a viable tag for a piece of clothing, but it could be perfectly fine for tagging a train boxcar.
In most cases, tag frequency is paramount when choosing a tag for a specific application. The tag frequency will determine where the tag can be deployed based on governmental regulations, and it will also enhance or retard the propagation of the radio waves through certain substances. A future article in this series will describe how RF behaves at different frequencies and in close proximity to items such as fluids and metal. In real-time location systems (RTLSs), being able to accurately locate a tag using methods such as triangulation can be affected by the frequency of the tag. Certain frequencies are more accurate than others when it comes to determining the position of a tag.
The target deployment environment not only influences the frequency at which the tag should transmit but it also determines how the tag should be packaged. Harsh environments require enhanced durability enclosures which may be custom made for a particular environment. Extreme cold, heat, vibration, or exposure to corrosive chemicals are a few of the environmental conditions that should be taken into account.
Tag density refers to how many tags can be placed in close proximity to each other before a reader cannot receive all of the transmissions. Most systems will eventually read all of the tags, but it may take several minutes. In high security applications, a single missed read may be significant. Most manufacturers will publish their expected maximum tag density, but it is important to do some testing to validate the manufacturer's numbers when high tag density can occur.
When RFID systems are installed, there are usually physical areas that must be covered with an RFID reader. The reader my cover a 25 square foot choke point or portal, or it may cover an entire store. It is important to pick a tag that has transmission characteristics that fit the application. Fine grain coverage does not require a tag that can transmit a mile, but if the coverage area is a parking lot, a tag that can transmit a mile may be just right. Even though most active tags get praised for their range, most applications require some level of fine grain coverage. In these cases, long transmission distances do not matter.
The beacon rate of the tag governs how fast the tag population can be sampled. For solutions where tagged items move relatively often or where they may move through a reader's defined coverage area quickly, a faster beacon rate would be preferable. Longer beacon rates can be used in applications were items tend to be idle for extend periods of time, such as in storage warehouses. In the case of security applications, shorter beacon rates are required. For example, if an expensive item, such as a laptop, leaves the building without being cleared to leave, the on site security team may want to know within seconds that the asset has disappeared and the last known position of that laptop.
The protocols that active tags use to transmit are varied. Most corporations keep their protocols secret because each corporation's protocol attempts to conserve as much battery power as possible without sacrificing distance, functionality, or tag density. Some RFID tags use known protocols such as WiFi (802.11x) or ZigBee (802.15.4). WiFi tags tend to be large, short on battery life, costly, hard to manage, and are relatively hard to pin-point in an RTLS; however, WiFi tags are easy to deploy because most businesses already have a WiFi backbone installed. In addition, any WiFi enabled device can be tracked.
ZigBee was originally designed as a communication protocol for remotes, appliances, and tools, but it was quickly adopted by the RFID community. ZigBee gets its name from the way in which bees zig and zag as they fly from flower to flower. Analogous to how bees transfer small amounts of pollen between flowers, the ZigBee protocol transmits small packets of data between the wireless nodes. ZigBee tags look more promising than WiFi tags because the ZigBee protocol was created to transmit smaller amounts of data. This equates to longer battery life and less software complexity in the tag. ZigBee tags can also operate at all of the standard active tag frequencies such as 303 MHz, 433 MHz, and 2.4 GHz. ZigBee requires the installation of access points in order to provide RTLS functionality, but the good news is that once a ZigBee wireless backbone is installed, other ZigBee enabled devices can make use of the access points.
Ultra wideband (UWB) tags are taking advantage of a fairly new revolution in RF communications. UWB protocols transmit tiny bursts of electromagnetic radiation across a very large bandwidth at specific time intervals in order to communicate. Traditional RF communications modulated a carrier wave with a narrow bandwidth. UWB is sometimes referred to as zero carrier radio because it does not use a carrier wave. The transmissions are so weak that they are equivalent to the spurious RF transmissions that a computer's hard drive gives off when it is powered up. The benefits for UWB tags are:
Extremely high data transmission rates compared to other wireless protocols
High accuracy when used in an RTLS (decreased multi-pathing)
Longer battery lives
No interference with legacy wireless transmissions or other UWB communications
UWB systems refer to their readers as sensors. The downside for UWB systems is the price. For a system to obtain the highest accuracy, four sensors must be installed in every location where tags will be tracked, and the tags and sensors are very expensive due to the high quality components required to build them. Also, the highest data rates are only available at a range of up to 10 meters. The size of the UWB tags is comparable to WiFi tag which is usually fairly large. Looking forward, UWB is one of the most promising protocols for active RFID solutions.

This article is the second in an ongoing series that will explain the principles of RFID. It was created for RFIDNews by Jerry Banks, Independent Consultant, Atlanta Georgia and Les G. Thompson, Lost Recovery Network, Inc., Atlanta, Georgia. The authors are two of four co-authors of RFID Applied, John Wiley, 2007, ISBN-10 0471793655; ISBN-13 978-041793656.