G&D announces mobile security card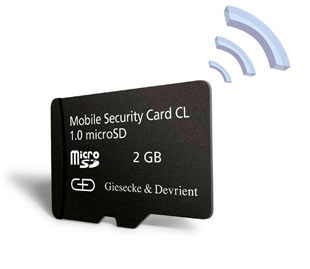 Giesecke & Devrient has developed a mobile security card offering contactless smart-card security in addition to the usual data storage functions. The new security feature is provided by a cryptography controller with an NFC-compatible interface integrated in the microSD card along with flash memory.
The Mobile Security Card CL is designed to implement security and payment functions in cell phones and for other mobile applications. The only requirement is that they should be equipped with a slot for microSD cards. Such cards can provide security functions for all of these devices, as well as PCs and laptops, without the need for an external smart card reader.
The latest product has been enhanced to include a contactless interface in addition to the integrated smart card, based on the ISO 14443 and MIFARE standards. In order to use the card in contactless mode, the device must be equipped with an antenna for the contactless communications.
This product using the ultra-compact microSD format enables many onboard security applications to be implemented in cell phones or microSD USB tokens. The range of possible contactless applications includes electronic access control to buildings, electronic event ticketing and transit ticketing, and electronic passes for companies, libraries and universities.
The Mobile Security Card CL can also be used for contactless mobile payment and it supports all of the usual smart card applications such as secure banking transactions, e-government and the secure storage of digital certificates for public key infrastructure applications. Other potential uses of the card concern the workplace environment, where it can be used for secure authentication when using single sign-on procedures to access enterprise networks, or for attaching digital signatures to documents or workflows.
"The holder of a Mobile Security Card CL can now use one and the same card for authenticated access to all services requiring a digital identity, both from their home PC and when out and about from their mobile phone. The advantage for the card-issuer is that there is only one card to be administered, while the user benefits by being able to choose freely how the card is used," says Kai Grassie, Head of G&D's New Business division.