Gemalto unveils laser ID security features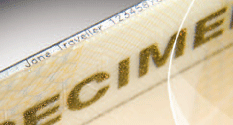 Gemalto announced the launch of a series of new laser-personalized innovations designed to further increase the security of identity documents. These advanced security features are available immediately as additional options in the Gemalto Sealys line of secure identity products.

The new security features can be applied on the polycarbonate card bodies of documents such as ID cards, health care cards, driver licenses, vehicle registration, voting and resident permit cards. The technology is designed to counter forgery while remaining easy for officials to verify authenticity, hence providing more convenience to legitimate holders. Sealy's is a laser engraving process applied during the personalization stage.
Documents are laser-etched with markings along the edge which relate to the ID holder's personal information, such as their name or ID number. Sealys Changeable Laser Image (CLI) enables a third field of visible information to be immersed within the secure document.
Depending on the angle with which the document is read, the information changes. Sealys CoreMark is a semi-transparent window within the polycarbonate card body. Using complex laser engraving techniques, it enables deeper markings into the core of the card and provides a watermark effect. This makes checking the super secure plastic document as natural as verifying a bank note.