Gerry Weber implement RFID into care labels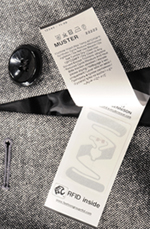 Fashion and lifestyle company, Gerry Weber, will implement RFID technology to combine inventory management and loss prevention.
The German retail company will be using Avery Dennison RFID solutions in more than 25 million garments a year to reduce theft and ensure stores are well stocked with popular items.
The RFID will be embedded in a care label, eliminating the need for retail employees to fit and remove the conventional bulky security tags in-store which can be both time-consuming and costly. The Avery Dennison RFID is automatically deactivated after the customer has purchased the item at checkout and will possess an inlay, also provided by Avery Dennison, which can withstand a washable temperature up to 140 degrees F and can also be dry-cleaned.
Tests of the new RFID system in Gerry Weber stores have already begun, and have proved to be a success. The German retail company plans to roll out the solution to more than 150 of its branches next year.