Google, Samsung unveil Galaxy Nexus with Android 4.0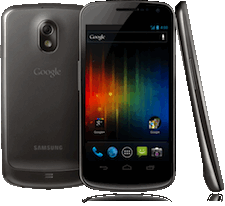 Google and Samsung unveiled their new Galaxy Nexus handset, the first phone to run the latest Android 4.0 OS – aka Ice Cream Sandwich.
The NFC-enabled Galaxy Nexus boasts a 4.65″ Contour Display with 720p HD resolution and a dual core 1.2ghz processor, and comes loaded with new features – notably a biometric facial scanner, 'Face Unlock,' that reads your features to grant you access to the phone.
The handset will also debut 'Android Beam,' a peer to peer NFC sharing feature that enables users to instantly swap Web pages, YouTube videos, maps, directions and apps by simply tapping two phones together. According to Android Central, the API is open to developers, so we can expect to see a number of new NFC apps arrive in the future.
Another new app, dubbed simply 'People,' brings some flavor to your contacts list by adding high-resolution photos and updates from Google+ and other social networks.
Google also retooled a number of basic features with Ice Cream Sandwich, adding a new font optimized for HD, new adaptable software buttons in place of hardware buttons, revamped keyboard, resizable widgets, and a new Gmail design that lets you swipe through your inbox and search messages even when you're offline.
"With Ice Cream Sandwich, our mission was to build a mobile OS that works on both phones and tablets, and to make the power of Android enticing and intuitive," said Google on their blog.
The Galaxy Nexus is expected to hit stores next month in the United States, Canada, Europe and Asia.