Government IDs getting smarter with new chips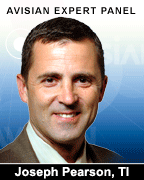 Joseph Pearson,
Marketing Manager (Government ID),
Texas Instruments
The government electronic identification market is gaining momentum as traditional ID documents are being replaced with more secure cards containing smart chips. More than 50 countries have electronic passport (e-passport) programs and many more are implementing secure electronic identification programs for citizens, visitors and government employees.
The government ID market will soon require cards that contain more information and functionality than current cards offer. As this need grows, current chip memory technologies such as EEPROM and Flash will, in part, limit the performance and capabilities of current electronic identification documents. Cards will require a more advanced memory technology, such as FRAM (ferroelectric random access memory), to improve the speed and reliability of producing, personalizing and processing these identification documents.
In upcoming years, the number of government IDs is expected to surge. ABI Research states that the total market for contactless e-ID documents is expected to reach nearly $1 billion by 2012 and contactless-enabled national ID cards are expected to grow to approximately $750 million by 2012. These cards will need to be produced quickly and efficiently to meet higher demand.
Trends to watch in the Government ID market over the next several years include:
Cards with multiple applications: With improved chip read and write times, future cards could combine multiple applications onto one card. This would simplify the credentialing process for individuals because new data could be written to the card as an individual's needs change. For example, a card being used for a health services agency could also contain information for a pension provider without the individual needing separate identification for each one.
Write-on-the-fly data: Security demands in the e-passport market will drive adoption of new capabilities such as write-on-the-fly data. For example, with a fast chip transaction speed, a person's visa could be written directly onto his or her e-passport. Also, electronic entry/exit stamps on the chip can now become reality, increasing accuracy and security, and eliminating the need for a physical stamp.
More biometric data: Some countries are also looking to include additional biometric information, including fingerprints or iris scans, on identification cards in upcoming years which will increase the need for improved smart IC technology and additional memory. Nov. 1 2007 Germany became the first European Union country to begin rolling out second-generation e-passports with fingerprint data. The new e-passports will incorporate two fingerprint images on the chip. European Commission regulation EC 2252/2004 calls for the incorporation of fingerprint data on European Union e-passports by June 28, 2009. Successful implementation of biometric data will require more information to be contained on the card as well as faster read, write and production times.
To meet the requirements of increased production and functionality, electronic government IDs will require smart ICs with fast transaction speeds and improved memory technology. FRAM memory technology, ultra-low power microcontrollers and other RF advances embedded in a secure IC platform and optimized for the market will offer the performance and capabilities needed to create the next generation of government IDs.
---
About the AVISIAN Publishing Expert Panel
At the close of each year, AVISIAN Publishing's editorial team selects a group of key leaders from various sectors of the ID technology market to serve as Expert Panelists. Each individual is asked to share their unique insight into what lies ahead. During the month of December, these panelist's predictions are published daily at the appropriate title within the AVISIAN suite of ID technology publications: SecureIDNews.com, ContactlessNews.com, CR80News.com, RFIDNews.org, FIPS201.com, NFCNews.com, ThirdFactor.com, and DigitalIDNews.com.