Handhelds become contactless reader writers with new SD Card technology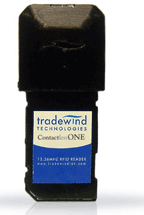 Tennessee-based Tradewinds Technologies has integrated the PicoRead chipset from INSIDE Contactless into an SD Card form factor. The SD reader can be used with a host of handheld devices including both Palm and Pocket PC varieties. The new reader can read and write to tags of the following flavors: ISO 15693, ISO 14443A, ISO 14443B, ISO 18000, FeliCa™, and eNFC™ (enhanced NFC technology).
INSIDE JOINS FORCES WITH TRADEWIND TO BRING FIRST MULTI-STANDARD SECURE DIGITAL CONTACTLESS READER TO HANDHELD MARKET
INSIDE's NFC-enabled PicoRead™ Chipset powers Pocket PCs and Palm Devices to Become Instant contactless Readers
AIX EN PROVENCE, FRANCE, January 30th, 2006 – INSIDE Contactless today announced that it has entered into an agreement with TradeWind Technologies LLC to combine the two companies' technology to deliver the market's first multi-standard Secure Digital (SD) contactless reader. INSIDE's innovative PicoRead chipset has been integrated into TradeWind's industry leading ContactlessONE SD contactless reader, enabling Pocket PCs and Palm devices to read and write to 13.56 MHz ISO tags and smart labels.
"Working together, INSIDE and TradeWind have married contactless technology with the ease-of-use of handheld devices, providing a cost-effective, easily deployable platform for contactless applications in a wide range of industries, including healthcare, corporate, consumer and manufacturing," stated INSIDE Contactless' Project Manager, Olivier Carron. "PicoRead's unique low-cost, low-power design and multi-standard technology makes it the perfect chip for this groundbreaking small form factor, turning any PocketPC or Palm with an SDIO slot into an extremely easy-to-use contactless device."
"Combining simple-to-use handhelds with contactless technology is a logical extension of existing devices," stated Doug Yeager, president of TradeWind Technologies. "TradeWind's ContactlessONE SD contactless reader is already proving its worth in customer deployments. We anticipate high demand for these readers as more and more companies and institutions move to using contactless technology for capturing critical data and information."
The readers feature a very small form factor – just 28mm by 28mm, extending outside a PocketPC or Palm device's external SD slot by a mere 6mm. With INSIDE's PicoRead contactless technology, the TradeWind SD contactless reader is compatible with all standards, including ISO 15693, ISO 14443A and B, ISO 18000 and FeliCa™ chips. PicoRead's robust capabilities ensure high performance, while its crypto support provides a high level of security, and its low power consumption significantly extends battery life.
INSIDE's PicoRead technology is designed to address the fast growing demand for a high performance, low-cost RF 13.56MHz contactless interface for large scale applications where low-power and small footprint are required. Applications benefiting from this innovative product include access control for corporate campuses, government installations and hotels, as well as logical access via integration into laptops, keyboards, handheld terminals, and consumer electronic devices such as PDAs and mobile phones.
About TradeWind Technologies
TradeWind Technologies LLC develops and manufactures flexible and low-cost advanced radio frequency identification (RFID) systems for VARs and Systems Integrators to meet the demands of emerging RFID markets worldwide. TradeWind Technologies' RFID systems support a full range of ISO, EPC and industry standard RFID tags and smart labels. TradeWind Technologies is based in Oak Ridge, Tennessee and can be reached at 865-927-0730 or http://www.tradewindtek.com.
About INSIDE Contactless
INSIDE Contactless is one of the world's largest providers of semiconductor chips (memory and microprocessor) and hardware platforms (couplers and readers) related to 13.56 Mhz contactless technology. Delivering the most cost-effective, reliable and secure technology for both contactless cards and readers, INSIDE provides high performance, open standard solutions for Payment, ID and Access Control. Strategically headquartered in France with a global presence in China, Singapore and the US, INSIDE's worldwide customer portfolio includes providing MicroPass chips for Visa's contactless payment initiative and serving as the exclusive provider of smart card reader technology for HID's iCLASS access control solution. For more information, visit the company's website at http://www.insidecontactless.com.
Near Field Communications News and Insight
Explore more developments dealing with the implementation of Near Field Communications, a short-range wireless technology that promises to revolutionize contactless identification, payment, access, and more.
Click to visit NFCNews
.