R2R™ provides 'open' alternative to NFC for contactless and RFID in '05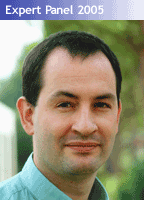 A panel of ID industry experts provided predictions for 2005. One of these glimpses into the future will appear here each day during December.
by Bruno Charrat, Chief Technical Officer, Inside Contactless
Today there is a growing trend amongst the major smart card players and market leaders, in the perception of RF 13.56MHz contactless technology as a promising replacement to other smart card technologies such as contact cards and older RF technologies such as 125 KHz systems. This is already widely the case in the access control and mass transit markets, with E- payment and ID document markets following the same trend.
Ten years after the launch of the first mass deployment, contactless chips are used on a daily basis by hundreds of millions of people around the world. Each year more than 200 million contactless chips are produced by IC manufacturers like INSIDE Contactless.
The quick acceptance of contactless technology by consumers is due to its indisputable benefits over other technologies. The main advantages are: convenience, speed, a packaging offer adapted to various needs of form factors, and easy integration in the host system, not limited by mechanical or design problems.
Convergence of RFID with consumer Electronic devices
Always striving to stay ahead, INSIDE has developed R2R™ technology (Reader-to-Reader) with the vision of bringing the benefits of the RF13.56 MHz RF technology to consumer electronics.
R2R™ technology was developed by INSIDE in 2000. INSIDE's first R2R™ application integrated the R2R™ feature in a PDA for vending machine maintainance operators. The RFID enabled PDA allowed a maintenance operator to update the vending machine with new prices, and to download the transaction logs from it.
R2R, a superset of and an open standard alternative to the Near Field Communication.
The R2R™ feature allows devices to behave both as a reader and as a card. An R2R™ device can receive commands from any standard proximity contactless reader and send back responses in the same way as a contactless smart card would. Using this feature a consumer electronics device can interact with the millions of readers already installed worldwide, to exchange data or to perform secure transactions, using different access protocols, including ISO 14443 A & B, ISO 15693, as well as FeliCa™ protocols.
R2R™ is not a new standard, but is an enhancement of the existing international standards ISO/IEC 14443 (proximity) and 15693 (vicinity). R2R™ also includes the capabilities of the recently announced NFC (Near Field Communication) technology from Philips, with the advantage that it is compatible with the existing installed base of RFID readers. This positions R2R as a superset and an open standard alternative to the NFC.
The NFC Technology limitations
Philips's NFC technology includes only one existing ISO international standard, ISO 14443-A, as well as the FeliCa™ standard. As an example, NFC is not compatible with the ISO 15693 based infrastructure, widely adopted by the Access Control industry and the electronic-Tagging industry.
The Philips's NFC introduces a new mode of communication, called "Active mode", which is not compatible with any of the existing installed base of RFID readers.
R2R™ Benefits
R2R™ offers key advantages. It allows interoperability with all RF 13.56MHz readers and transponders compatible with the existing international standards, including ISO 14443 A & B, ISO 15693, as well as FeliCa™.
It offers higher baud rates, up to 847 Kbits/s.
It is exclusively based on open, existing, international standard communication technology. Thus it doesn't require costly, time consuming standardization efforts, reduces deployment risks, and accelerates customer time to market deployment.
INSIDE introduces PicoRead™, the first chip interface on the market to feature R2R™
PicoRead is the INSIDE's answer to the fast growing demand for an RF 13.56 Mhz interface in large scale applications where power and space for integration are limited. PicoRead was specifically designed to address the needs of OEMs in consumer electronics and equipments where large reader volumes require small, low-cost footprints. Its low power consumption, and automatic card detection feature in stand-by mode were specifically designed for its integration in battery operated electronic devices.
PicoRead™ is compliant with ISO 14443 A/B, ISO 15693 and FeliCa™, and features the new R2R technology. Today PicoRead™'s popularity is showing it to be the best solution on the market.
---
About the author :
Qualified with an engineering degree in electronic systems, Bruno Charrat is one of the founding members of Inside Contactless. He previously worked for Gemplus where he was responsible for contactless technical survey and software design for all new contactless readers and chips.He has held several positions at INSIDE, starting as digital chip design and microprocessor specification followed to be the system manager including new readers products definition and management of a development team. During this period, he actively participate in the ISO committee for the definition of ISO 14443 and ISO 15693 standards. Bruno is now Chief Technical Officer. Bruno defines the product line strategy including market analysis up to product definition (Memory chips, Microprocessor chips and Readers) , he also manages the support team and the relation with customers for customized product development. After some successful products launch, one of his key missions is to manage a program to provide a new secured 16-bit RISC microprocessor to the contactless market.
---
Visit Inside Contactless on the web at www.insidefr.com.
Near Field Communications News and Insight
Explore more developments dealing with the implementation of Near Field Communications, a short-range wireless technology that promises to revolutionize contactless identification, payment, access, and more.
Click to visit NFCNews
.