Hospital implements RFID system for newborn safety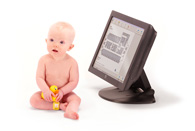 Danbury Hospital in Danbury, Conn. has implemented an RFID system for its child-related facilities in an effort to keep newborns safe and reduce the risk of abductions.
The hospital has selected Wisconsin-based RF Technologies Safe Place Infant Security product for this effort. It's implemented the system on three floors of the hospital, including the family birthing and pediatric units.
Safe Place uses water-resistant, lightweight transmitters and the company's Smart Sense technology in a band that attaches around an infant's ankle. Staff can then monitor the infants using automated software. If a band is loose, tampered with or removed, the software alerts the staff. Likewise, if an infant wearing a transmitter is in range of a monitored exit, the system can lock the doors and send out a potential security threat alert.
Danbury Hospital is part of the WEstern Connecticut Health Network. It delivers about 2,500 babies annually.