HSBC starts roll out of contactless bank cards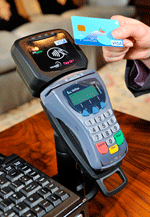 HSBC announced that it will begin the conversion to contactless technology this month, replacing all customer banking debit cards, according to ThinkMoney.com.
The bank will start to roll out the new contactless cards to existing customers whose debit cards are due to expire this month and then continue the process as cards expire. Customers who don't want a contactless card can opt out by contacting their bank before their current card expires.
"By starting to issue cards now customers will be able to take advantage of the contactless payment pads that are being installed in Olympic venues," said Barnaby Jenkins, head of cards for HSBC.
Banking users will be able to use the card to pay for items with just a single tap, up to the value of £15 –which will increase to £20 in June – without having to enter a PIN or signature.
Read more here.