IATA reveals checkpoint of the future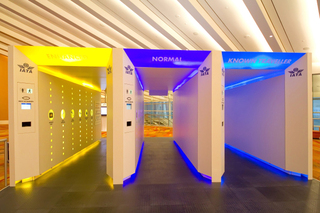 The International Air Transport Association (IATA) announced a new security checkpoint model which brings features to help improve security and efficiency at airports worldwide.
The new checkpoint will have known traveler, normal, and enhanced security lanes which the passenger will be directed to, based upon biometric information obtained before arriving at the airport.
The main concepts of the check point are strengthened security by focusing resources where risk is greatest, supporting this risk-based approach by integrating passenger information into the checkpoint process, and maximizing throughput for the vast majority of travelers who are deemed to be low risk with no compromise on security levels.
The lanes are tailored for more or less security based upon the person walking though the lane. Known travelers have registered and completed background checks with government authorities will have expedited access. For example, a known traveler may not have to take off shoes or unpacking a laptop.
Normal screening would be for the majority of travelers. And for those passengers for whom less information is available, who are randomly selected or who are deemed to be an Elevated risk there would be an additional level of screening.