Privatizing Registered Traveler smart card issuance: Is it a CLEAR Way to Go?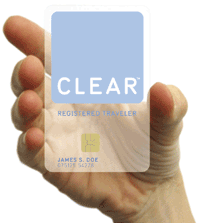 By Dee Ann Kuhn
Contributing Editor, AVISIAN Publications
There's nothing more appealing to frequent fliers than a line that stretches less than a corridor's length for security check-in. Add to the mix an opportunity to avoid a secondary security sweep and, chances are, your day just got a whole lot better. This utopia became a reality for a select group of travelers – 10,000 to be exact – when in 2004, the Transportation Security Administration, under a directive from its parent, the Department of Homeland Security, launched its Registered Traveler pilot program.
The test enabled frequent fliers with participating airlines to sidestep security checkpoint lanes simply by submitting to an iris scan and fingerprint identification, along with a background security check conducted by the TSA. The agency partnered with Unisys Corp., and EDS to test various biometric technologies at five participating airports. The pilots were part of the DHS's overall efforts to improve U.S. security. That the program lasted far more than its slated 90-day trial came as a huge surprise, but now that the test is over (TSA ended the pilot September 30, 2005), participating frequent fliers are back at the end of the line. But that could soon change.
At the same time the program was being tested in Boston, Houston, Los Angeles, Minneapolis and Washington, D.C. (see box), Orlando International Airport approached the TSA to run a separate pilot using a private company called Verified Identity Pass. Verified's Registered Traveler program, called CLEAR, offers frequent fliers the same opportunity to bypass traditional security checkpoints via its own lanes. And while it requires members to submit to the same biometric procedures (iris scan and fingerprinting) as well as provide background information, it does so for an annual fee of $79.95. Unlike the federal government's pilot, CLEAR is not in conjunction with an airline but applications are screened through the TSA, a process which could take up to four weeks. Once an applicant is "green lighted" he or she will receive their identity card and are good to go – but for now, that's only in Orlando.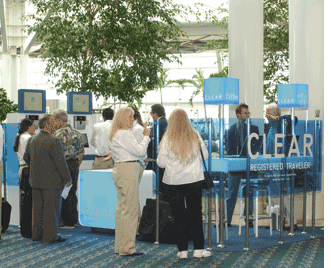 Under the watchful eye of the TSA, CLEAR has enrolled 9,000 members (7,000 are currently active meaning they have been issued cards) since June. The first CLEAR lane opened in July. The TSA capped membership at 30,000 in order to evaluate the progress of the program.
But not only is the government watching. The private sector sees big opportunities in offering viable alternatives to the endless lines posed by a post-911 travel culture. By privatizing the program, the TSA would allow companies like Verified to bid for airport contracts and require them to submit applications, biometrics and background data for screening.
Each airport would have only one company servicing its Registered Traveler program. In addition, approved providers then would set up kiosks for enrollment and biometric screening as well as open separate checkpoints for security clearance. They then would pass the applicant's background info to the TSA to review law enforcement and intelligence data sources for any outstanding criminal warrants.
"The Orlando program has every indication it's going to be a success," says Tom Blank, Vice Chairman of Wexler and Walker, a Washington, D.C. lobbying firm and formerly TSA's number two ranking official (Acting Deputy Administrator). Blank says the TSA programs established that Registered Traveler lanes could be worked into existing security lanes allowing agents to concentrate on more potential-risk passengers. "It also showed the public has a real appetite for it," he adds.
Blank cites the lack of appropriated funds for Registered Traveler programs in the government's 2006 budget as a solid endorsement for a private-sector – not government – approach. "The TSA's role will be limited to screening applicants. They'll have some recommendations of how the business model is set up to avoid association with someone making unseemly profits or treating travelers in an unfair way."
Blank explains that the TSA is in a unique position because Congress has conferred the agency to collect fees for the Registered Traveler program without requiring it to go through a cumbersome 18 month-long Notice and Comment rule-making administration process. Because of this, the agency can make the final policy determination on what the public/private partnership should look like (TSA responsible for background checks and the private sector responsible for all other aspects) and the security benefits a Registered Traveler will be offered.
According to Blank, under serious consideration is whether participants should have to remove their shoes, coats and laptop for screening after submitting to a background check. While members present their card for identification, they still are required to scan these items but are exempt from any secondary 'wanding.' Critics contend the program will only be successful if these procedures can be avoided.
Once this is determined, the TSA can announce its recommendation which could allow other entities (airports or other for-profit enterprises) to operate at the front end, recruiting members, charging fees and determining the biometrics and interoperability." The TSA is expected to come out with its report within 30 days.
According to the folks behind CLEAR, the key to the success and proliferation of any Registered Traveler program is interoperability. During the test, Minneapolis was singled out to use contactless technology while the other participating airports tested either smart cards or identity cards. So on return flights, participants were required to go through traditional security checkpoints.
"CLEAR will be interoperable with other vendors so our customers can use the system at as many airports as possible," says Verified spokeswoman Cindy Rosenthal. "We believe interoperability among offerings should be a government requirement."
To sign up for CLEAR, enrollees must complete an online application via their home or office computer or at the airport. All biometric information is processed at four enrollment stations in the Orlando airport. In addition, CLEAR members do not have to submit new biometric data in order to renew their yearly membership and would be notified by the TSA only if an applicant was taken off the approved list or "red lighted."
All in all, the (original) test was a great success, confirms TSA spokesman Darrin Kayser. "We launched the program in September 2004 and then extended it through the government's fiscal year 2005. At that point, we learned what we needed to learn, we knew it was a success, we knew the technology worked and that biometric identifiers used to confirm an identity and maintain a list of approved passengers works.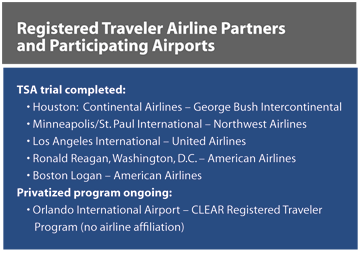 "The next step is to set up a business model for moving forward with it, including enrollment, benefits and taking into consideration what we learn from Orlando, basically, how the Registered Traveler program will be a link in the security chain," outlines Kayser.
For now, folks like Tom Blank envision more opportunities for Registered Traveler-like ID/credentialing systems, suggesting what the technology can do for limited-access venues like stadiums and concerts where screening costs can be greatly reduced. "Long lines mean less numbers passing through. What this does for venue operators or for the TSA is to create an efficiency that translates into real dollars."
A survey by the National Business Travel Association finds that nearly 84% of business travelers would support expedited air travel security screening for those who volunteer for government background checks. The association has supported the concept of a Registered Traveler program since it was first introduced. During that time, NBTA members have written elected and administration officials and NBTA representatives have testified before Congressional committees in support of the program.