ID cards become more visually secure in 2005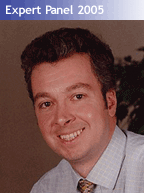 A panel of ID industry experts provided predictions for 2005. One of these glimpses into the future will appear here each day during December.

By Andy Matko, Marketing Manager, Ultra Electronics Card Systems
ID cards, by their very nature, are all about increasing security. However, one issue that is often overlooked is preventing people cloning cards or making up their own cards.
Years ago, ID cards were made by using 'cut-and-paste' laminators, which meant the cards were easy to alter; nowadays, almost everyone with a real security application uses digital ID card printers, which, because they print into the plastic card surface, make altering cards almost impossible. However, the fact that ID card printers are so common, and so affordable with pricing starting at $1000, means that almost anyone can get access to one. Also, a security manager should not forget people can use their organization's own ID card printer for making fake cards.
Visual security is a key tool is preventing card fraud. Visual security can be achieved by means of Watermarks that can be seen when the card is viewed at an angle, Holographic patterns, and gold or silver Patches or Badges on the card surface.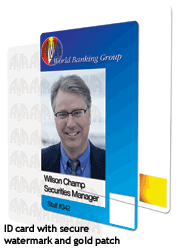 A simple method of adding visual security is the watermark. This frosts a visible watermark into the card surface at the time of printing, and costs nothing extra to print. Of course, if someone can get access to the ID card printer then in theory they could also print the watermark, so secure 'keys' (encrypted memory cards) are used to lock the printer. To really make the visual security feature secure, a custom design should be used. This means that someone with the same type of printer cannot copy your card as they don't have access to your custom design.
For laminated cards, a similar effect can be achieved with holographic laminates. These can be standard designs, or custom designs for added security.
Visual security has perhaps been slightly overlooked in recent years, with the trend for smart cards and biometrics putting the security into the card electronics. However, people can always tailgate others through secure doors, or borrow other people's cards, with relatively little of chance of being caught. The danger of being caught with a visibly obvious fake card is much more likely to deter people from trying to counterfeit cards in the first place.
Visit Ultra Electronics Card Systems on the web at ultramagicard.com.