Identive releases Tagtrail cloud-based NFC mobile services platform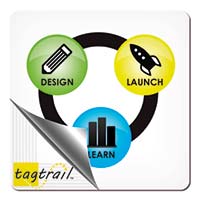 Identive announced the release of its Tagtrail solution — a cloud-based NFC mobile services platform.
According to a release from Identive, the Tagtrail app will enable advertisers, retailers and other organizations to deliver tailored content and services direct to users' mobile devices using NFC. The company expects the solution to provide solutions to the education and hospitality sectors with prospects in a number of other markets.
The app enables organizations of any size to design, launch and manage mobile advertising or information campaigns. The use of NFC and QR code technology delivers this personalized content directly to consumers' mobile devices.
The Web-based administration console makes customizing and updating the NFC and QR data east. The Web console also streamlines campaign management by monitoring the project from initial set-up and throughout customer engagement.
Custom NFC tags can be purchased through the Tagtrail web site and can be used for deployment in restaurants, campuses, business parks or even in the home. Each NFC or QR tag is assigned a unique identifier and is linked to Tagtrail's cloud-based content delivery system and analytics platform— allowing for a wide range of possibilities in personalization and targeted engagement.
Once placed, the NFC and QR tags report real-time feedback from every "tap," allowing campaign managers to examine customer interaction and preferences and adjust the messages accordingly. Tag content can be tailored to focus on specific audiences, heighten customer engagement or simply deliver new information.
By supporting both NFC and QR technologies, the Tagtrail app effectively accounts for every mobile device on the market. Compatible with Android, Apple iOS and Microsoft Windows Mobile interfaces, the Tagtrail app allows customers to 'tap' and receive information regardless of the device in their hand.
The tags can support a number of applications including the redeeming of coupons, social media check-in and secure access to Wi-Fi or other services. In the home, the customizable tags can be used to share vital information between family members— schedules, grocery lists, etc.— and can be placed virtually anywhere.
The Tagtrail app will be on display and demoed at the 2012 WIMA NFC USA conference in San Francisco November 27-29. 
For more information, visit the product's website.