IDEX ASA reach agreement with partner worth $14 million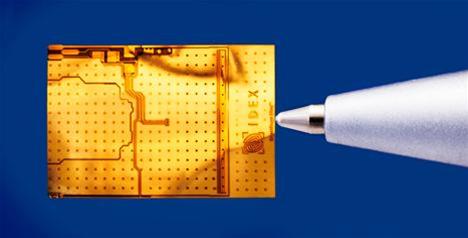 Norwegian fingerprint imaging and recognition provider IDEX ASA forged an agreement with a European-based original equipment manufacturer to aid in the development of
the company's SmartFinger sensor and software solution.
The deal has a potential value of around $14 million and will aid in the development of biometric security locks for use on 
luggage. The partner has thus far remained anonymous.
IDEX's SmartFinger fingerprint sensor and supplementary software will be 
integrated into electronic luggage locks and act as a substitute for keys or PIN codes. Users simply register their fingerprints directly on the lock— which unlocks only when an enrolled fingerprint is applied to the sensor.
IDEX's commercial agreement further exhibits the acceptance of fingerprint 
biometrics as a standard for personal security in an ever-growing number of 
applications.
The commercial agreement outlines volumes to be delivered during the 
second quarter of 2013 with significant increases expected in 2014. Final 
shipment volumes will ultimately depend on consumer demand, but IDEX expects unit production to reach the multi-millions.