Immersive Realms, NFC Data Inc. let you be a zombie in time for the holidays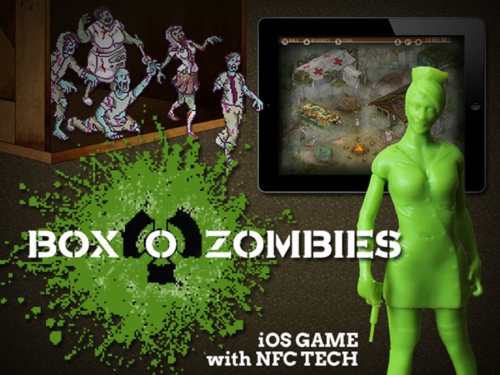 A partnership between Chicago-based Immersive Realms and NFC Data is giving people an opportunity to be immortalized in its latest Apple iOS game— as a zombie.
The Chicago companies are enabling fans the chance to be immortalized with their own character, storyline and interactive game figure to be featured in the Box-O-Zombies iOS game. Those interested in being zombified need only go to Kickstarter and pledge their support.
Kickstarter is one of the main backers for the game, which is scheduled for release in April of 2013.
The technology from NFC Data will allow Immersive Realms to completely rethink the boundaries of game play, effectively allowing players to bridge the physical and virtual worlds using NFC.
The Box-O-Zombies Kickstarter project is subsidizing the creation of additional game content as well as collectible, digitally serialized figures that will appear as characters in the game using a Bluetooth connected NFC reader.
Additional information about the Box-O-Zombies interactive game can be found here.
To make a pledge and become a zombie yourself, visit Kickstarter's site here.