Infineon debuts Coil on Module to support global contactless payment applications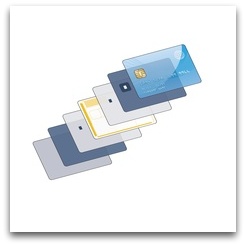 Infineon, a manufacturer of semiconductor solutions for payment applications, introduced its Coil on Module chip package to support global distribution of dual interface bank and credit cards.
The new Infineon chip package combines the security chip and antenna using a radio frequency (RF) link – rather than the common mechanical-electrical connection – which improves the robustness of the payment card and simplifies card design and manufacturing.
In conventional card manufacturing processes, the chip module is connected to the card antenna via soldering connections or conductive paste. This method is complex and requires individual adaptation of the antenna design to the respective chip module.
Using the Coil on Module chip technology, card manufacturers can produce dual interface cards up to five times faster with more efficiency. This also makes the card more robust as conventional connections between the chip module and the card antenna – which can be damaged by mechanical stress to the card – are eliminated.
In addition to bank and credit cards, Infineon's Coil on Module chip package is also suitable for other types of dual interface smart cards such as electronic access controls, public transport ticketing and electronic identity documents.