Innovative new card form factors revolutionize look, shape, and function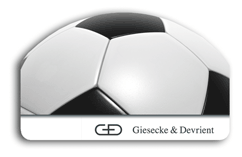 Andy Williams, Contributing Editor
Whether in the form of a football, a brand logo, or a keychain-ready miniaturization, different card shapes are battling the traditional 'CR80′ or 'ID1′ format for market share. Even watches, cell phones, and key fobs are joining in the game. But as long as ATM machines and many mag strip readers are geared for only one card shape, the common 3.370″ x 2.125″ rectangular form factor will continue to maintain its unimaginative grip on card users.
Still, the rapid growth in contactless technology has freed card makers from being locked into a single standard card shape that's been around since the first credit card was invented. The first modern day charge card was issued in the 1920s by oil companies to give their customers a convenient way to pay for gas. According to Wikipedia, the first credit card for general purchases besides oil was likely the Diners Club in 1950. The first bank-supported card didn't come along until the late 1950s with BankAmericard (now Visa) and Master Charge (now MasterCard) a few years later.
With contactless technology, you no longer need to worry about swiping a card's mag stripe through a reader, sometimes more than once to get a successful read. A simple tap will do, and this feature has given marketers free rein to develop new kinds of more durable and convenient cards and fobs, both two- and three-dimensional.
Rahul Gadkari, Financial Services Marketing Manager for cardmaker Gemalto North America, said the company shipped some five million contactless cards just in the first six months of 2005, shortly after the contactless phenomenon took hold.
"We started with regular ISO (card) form factors that you see now with regular mag stripes. It's still the predominant form factor because it works in ATMs, (and) fits in wallets, Mr. Gadkari said. "It's a legacy device, and at the same time something people are comfortable with."
He believes that when Visa developed its mini credit card, things began to change in card design. The mini card was made durable enough to allow a hole to be punched through it for use on key chain. "We make a lot of mini cards today," said Mr. Gadkari.
"With pure contactless cards, we are free to use any dimensions. It makes payment easier, and there are many different form factors possible," said Hans Heusmann, Contactless Product Manager for Giesecke & Devrient (G&D), one of the world's largest card manufacturers. "That's why it's difficult to explain what's out there. It depends on customers and what they want."
While bank and card issuers are leading the way with different card form factors, Mr. Heusmann added that for the manufacturers themselves, "there's quite a bit of investment necessary to bring out a three dimensional form factor."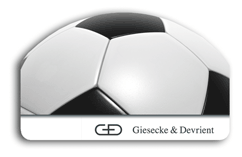 Gemalto also produces what Mr. Gadkari calls, "our two-dimensional card form factors covering different shapes." He adds, "Some cards are shaped like a donut, a football, soccer ball or basketball. Those are usually contactless." But designers haven't stopped there. "Beyond that we also saw some requirements from banks and issuers who wanted a three dimensional fob or token device, something people are used to getting for authentication devices. Banks said they wanted these devices to be just like a contactless payment card," said Mr. Gadkari.
Gemalto works with "some of the leading issuers" to develop different fob form factors. "We have some prototypes done and we're working with some issuers who have provided us with their marketing design," he continued. An issuer in Asia wanted a watch to be a contactless payment device. "We worked closely with MasterCard to come up with a watch which can be used as a payment device," he said.
It's obvious that, with contactless technology, form factor rules have gone out the window. "We can be very creative," said Mr. Gadkari. Besides watches, "you now can have wristbands (used mainly at swimming or ski resorts) that are contactless devices, basically more like a prepaid device," he said. "They reduce time at the concession stands, speed up their concession stand payment experience, and (visitors) get more satisfaction."
With watches or wrist bands, "there's always a discussion about the value of the form factor," said Andreas Johne, G&D's EMV production manager. "You have to look at how it will be used, where you will present the key fob. Will you present the complete key ring when you make a payment? Most people are not willing to present a key ring at time of sale. A watch or wrist band isn't really convenient."
Those issuing contactless fobs, "have to undergo Visa and MasterCard approval, an expensive and lengthy process," said Mr. Johne. "That's why you don't have too many different form factors."
The other consideration, said Benoit Guez, VP of Smart Cards and International Sales for Colorado-based CPI Card Group, is just how many key fobs one person is likely to carry around? "I don't want five key fobs in my pocket," he said.

Marketing gimmick or legitimate innovation?
So are alternate form factors simply a marketing gimmick? Mr. Johne doesn't believe in producing form factors "just to have them." He adds, "We're willing to cooperate with our customers and to fulfill their requirements." For example, a bank might have a form factor in the shape of its logo, or a car manufacturer with a fob shaped like a car. "Our experience is that banks are reluctant (to develop new form factors). But non-banking industries have used form factors successfully," he added.
"Imagine," said G&D's Heusmann, "that McDonald's could issue its own McDonald's PayPass card on a fob in the shape of a hamburger. You're giving your customers a payment device – it could be a debit card, credit card, preloaded. There are several possibilities," all now feasible in today's card form factor world.
"You need to make (the fob) more of a marketing tool rather than a gimmick," insisted CPI's Guez. "It's not going to replace a CR80 card. In Hong Kong 15 million people are using CR80-style cards for transit. They don't need a fob."
There's another interesting problem, particularly for banks, said Mr. Heusmann. When a bank issues a regular-sized credit card, it's mailed to the customer. But if it's a fob, "banks must invest in different machinery to personalize them." When they want to send the fob to the card holder, it can't be sent through the normal channels as economicaly. "G&D has different solutions for this. For example, instant issuance. The bank clerk can personalize the fob directly in front of the customer," issuing the fob immediately.
Yet, while many of the different card shapes carry the contactless chip and antenna, they can still operate with just a mag stripe to be read at any POS system equipped with a handheld reader.
While marketing promotions such as the FIFA World Cup event (with soccer ball shaped fobs or cards) are some of the impetus behind varying form factors, for banks it's simply to try to, "differentiate themselves from others," said Mr. Gadkari. "Anyone doing contactless was looked at as having a cool device. Prior to that, the maximum differentiator banks had was in the printing on the card," such as how bright it was, perhaps a hologram, or the bank's raised logo. He continued, "They had stretched that look and feel as much as they could. That credit card is the true brand disclosure for the issuer. You want to make sure their debit or credit card is top of wallet because most carry six to seven cards, yet they usually only use one," he added.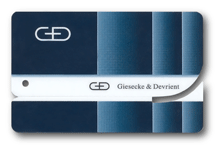 "What contactless did was make those cards top of wallet. If consumers liked it, they would keep using it," said Mr. Gadkari. But now, since many banks have jumped on the contactless bandwagon, banks are looking at newer differentiators. "You're now talking out of wallet concept."
Creating a new type of card isn't something that's done overnight. "With fobs, since they're so closely tied to brand exposure, they have to be very specific to each bank," adds Mr. Gadkari. "Since these are technology devices, they also need to be certified. We can make any shape or form, we just want it to be robust enough to house a chip and antenna."
With more and more unusual shapes and sizes for contactless cards being created and issued, you may soon begin to ask yourself, "What is in my wallet?"