INSIDE debuts Micropass contactless stickers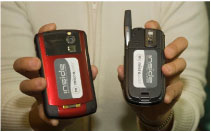 Chip maker INSIDE Contactless has announced that its MicroPass contactless prelaminate inlay for use in mobile handset stickers is for card manufacturers. The new sticker technology, for secure payments, combines the MicroPass 4003 contactless payment platform–designed to support open loop contactless payment applications–with a tuned RF antenna in a compact, shielded prelam for payment sticker applications.
The contactless sticker form-factor is gaining popularity as a way to turn mobile phones, company IDs or just about anything into a payment device. The prelam is used in the card or sticker manufacturing process, in essence "sandwiched" between front and back sheets of plastic to form the card or sticker.
"Bank card issuers are very excited about enabling consumers to use their mobile phones to make payments using their credit and debit accounts, and stickers offer a promising bridge to introduce this capability in advance of NFC enabled mobile handsets that will have payment chips already built in," said Charles Walton, executive vice president of payments for INSIDE Contactless.
"Because stickers support prepaid debit as well as standard debit and credit accounts and can be attached to just about anything, they open the door to a variety of novel payment applications. We anticipate a lot of retailer and consumer innovation to occur with how these stickers are used."
According to Walton, INSIDE anticipates that initial rollouts will start by the end of 2008. INSIDE's shielding design improves performance by protecting the chip and antenna inside the sticker from outside interference that might be caused by the radio signals used in mobile phones and other electronic devices.
"Contactless stickers offer a way to enable people to use their mobile phones today to make payments employing existing infrastructure," said Shyam Krishnan, industry analyst, at Frost & Sullivan. "Contactless stickers, like these from INSIDE, can bridge the gap between the environment we find ourselves in today and mobile payments of the future."
While the product can be used for credit, debit or prepaid debit applications, an INSIDE spokesperson says the company anticipates that a prepaid debit product will be the most likely use as it will serve as the equivalent of an electronic coin purse for low-value payments.