INSIDE Secure, TazTag produce secure NFC-enabled android tablet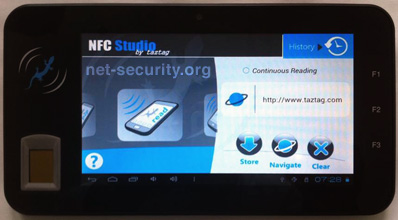 A partnership between INSIDE Secure and TazTag has yielded an NFC-enabled Android tablet.
The TazPad V2 is a 7-inch Android 4.0 Ice Cream Sandwich tablet that can be used for mobile banking, stock management, payment, ticketing, access control, identity and other sensitive and secure applications.
The tablet— currently available directly from TazTag—combines INSIDE's EMVCo-certified Secure SecuRead NFC module and Open NFC protocol stack with biometric authentication capabilities. The tablet also features and an array of wireless connectivity technologies that provide support for a variety of commercial and professional applications.
Authentication takes place via the SecuRead module, which securely stores fingerprint images that are then compared to images gathered from the built-in fingerprint scanner.
Hardware on the new tablet has also been updated in the form of a multi-core ARM Mali-400 MP graphics accelerator, built-in 3G wireless connectivity, 1 USB Host, a micro-USB port for battery charging and a more 6000-mAh LiPO battery.
In addition to NFC and Wi-Fi, the TazPad V2 also supports ZigBee and Bluetooth. The device features 16 GB of flash memory as well as a MicroSD slot allowing for up to 32GB of memory.
Other specs for the device include a 7-inch (800 x 480) screen, 2 Mpixel front and 5 Mpixel rear-facing cameras, autonomous and assisted GPS, three-axis accelerometer, a magnetometer and an ambient light sensor.