iQueue enters registered traveler market
Indianapolis is first market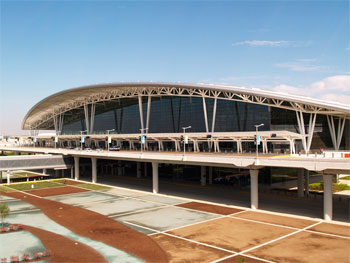 The Indianapolis Airport Authority has selected iQueue to re-launch a registered traveler program at Indianapolis International Airport. iQueue is a partnership of Cogent Inc., ARINC, FLO Corp., and International RAM. iQueue will provide members with expedited access to the screening checkpoint enabling greater predictability in travel schedules.
IND is the first airport to re-establish RT services for travelers since the RT program shut down last June when former RT provider CLEAR ceased operations. iQueue has begun pre-enrollment for travelers will commence operations at IND at a date to be announced shortly. iQueue is also currently in discussions with several other airports for re-launching services.
After completing an online application, an iQueue member proceeds at their convenience to an in-person enrollment at IND or one of Cogent's enrollment locations in the Indianapolis area to provide biometric data–fingerprint and iris images–and approved documents.
Once processed, a traveler's biometric information is stored on their iQueue Card. When arriving at the security checkpoint, the member presents their card for verification at either of the iQueue lanes at IND Concourses A & B to receive expedited access to the screening checkpoint. Additionally, iQueue plans to provide local enrollment for members utilizing Cogent's over 1,000 biometric enrollment sites across the U.S.
iQueue's national RT program will offer benefits beyond the airport lanes including preferred parking, airport club access and airport retail discounts as well as local restaurant, golf, spa, tennis, health club, mortgage and auto lease/purchase discounts. A future iQueue Platinum Membership level will also include identity theft protection and enhanced travel insurance as well as worldwide travel assistance, medical services, lounge access and concierge services.
Annual iQueue membership is $149 with discounts for families, multiple-year memberships and negotiated volume corporate purchases. iQueue will offer a special introductory annual membership rate of $99 during the first 90 days of lane operations at IND.
iQueue will also provide former members of the defunct CLEAR and Preferred Traveler Programs an additional six months of complimentary membership in the iQueue RT program as credit for the time remaining on their previous memberships.