NIST: Iris recognition becoming easier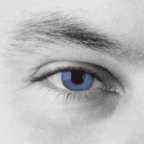 The National Institute of Standards and Technology released a report detailing the evaluation of iris recognition software from 11 different organizations, finding that this method of identification is getting easier and faster, albeit with less accurate results.
The Iris Exchange (IREX) III report is the first public, independent examination of commercially available iris recognition algorithms that look for matches within a large database of potential identities.
The 92 analyzed algorithms came from nine private enterprises and two university labs that submitted software to NIST's open competition. The NIST then tested the algorithms to identify individuals from a database of eye images representing over 2.2 million people.
NIST found that accuracy rates varied among the algorithms tested. No software was perfect, but success rates ranged from 90 to 99%. Some also produced up to 10 times the errors of others.
Speed is a factor in iris recognition, particularly when looking through a large dataset for matches. NIST found that some of the algorithms could be fast enough to go through a dataset of hundreds of millions of records in less than 10 seconds with a standard computer; however, speed had limitations on accuracy.
NIST hopes its findings will be helpful to policy makers around the world who are interested in incorporating iris recognition and other biometrics for identification purposes.