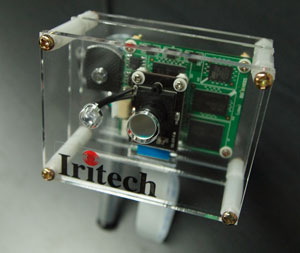 IriTech Inc., a provider of iris-based biometric identification technology, products and services, has unveiled a new product in its IriCAMM family of iris recognition cameras. Built around an ARM processor, the new cameras perform on-board processing that reduces the workload for a host PC. This expands the number and types of acceptable host systems, enabling a wide variety of existing infrastructure to become iris-biometric enabled.
Two important functions embedded within the new IriCAMM cameras are IriTech's automated quality-based image acquisition and IriTech's matching. The cameras capture iris images and offer standards-compliant formatting. Matching can be performed on-board or via the host, depending on operational requirements. User feedback indicates these cameras set a new benchmark for speed, ease of use and overall image quality.
The IriCAMM cameras are available in single-eye or dual-eye configurations, OEM and in either fixed or automatic focus – fitting a wide variety of applications. Interfacing to the new cameras is simplified via USB 2.0.
The IriCAMM cameras are being showcased at several conferences including: INTERSEC 17-19 January in Dubai, Border Management Conference 19-21 January in Bangkok, National Sheriff's Association Conference 20-23 January in Washington, DC, and the NDIA Biometrics Conference 20-21 January in Washington, DC. Delivery of IriCAMM cameras has already began, with shipments to the US, China, Middle East, and South Korea.