It's more than just smart cards for Gemalto

By Andy Williams, Contributing Editor
It's not all about smart cards for Gemalto anymore. At one point, it was considered the largest smart card producer in the world. It still is, but that's not what the French-based company wants to be known as. It's now all about "digital security."
Of course it became known as No. 1 because numbers one and two merged. Previously, there was Axalto and Gemplus, both companies located in France but with both hands stretched throughout the globe. When the two became Gemalto, the focus wasn't so much on re-imaging the company as it was with concentrating on its strengths as well as keeping up with a rapidly changing market.
Gemalto and the two companies that created it – Gemplus and Axalto – have pedigrees dating back to the beginnings of the smart card industry. For Axalto, it goes back even further, with chip-based phone cards that were used in pay phones – you know, those devices that hung on walls or were located in phone booths that required coins to make a call.
Pay phones aren't commonplace anymore, but that's where Axalto, and the company that spawned it, Schlumberger, got its start. The expertise in that area enabled Axalto to become heavily involved in the telecommunications industry, which it still is today. Coincidentally, the company, whether it had known it at the time or not, had positioned itself to take advantage of the eventual convergence of the smart card industry with cell phones. While this involves several areas already, the future is bright as mobile phones and payments converge with near field communication, or NFC, which enables cell phones to be used as a payment mechanism, or as Gemalto in one of its presentations calls it, the new "pay phone."
From Schlumberger to Axalto

In 2003, Schlumberger Smart Cards and Terminals changed its name to Axalto in order to, as the company's announcement said, "bring more visibility and reinforce the company image as a leading smart card player in a rapidly evolving market." At the time it was the world's largest smart card producer.
According to Paul Beverly, executive vice president of worldwide marketing and president at Gemalto North America, the word is a Latin derivative of two other words that mean "access" and "altitude." Our technology allows you to access information in a more secure matter. Alto, from altitude, to describe our aspirations to reach higher and further, aspiring to make the technology more beneficial," says Beverly.
Beverly started with Schlumberger, a gas and oil giant, in 1985, "a new guy right out of college," as a marketing manager in Atlanta. "I worked at Schlumberger for 14 years, then I joined its smart card activities." He spent time in both France and Texas. "During that 18-month period of integrating the two companies, I moved back to France, but now I'm back in Texas wearing two hats," that of worldwide marketing and running Gemalto's North American division, he adds.
For Gemplus, its beginnings occurred in the late 80's with the merger of French electronics company Thomson Electronics and SGS, an Italian company, to create SGS Thomson Microsystems. Gemplus was a spin-off of SGS-Thomson. Actually, in exchange for a "substantial number of shares of the new company," according to one Gemalto spokesperson, SGS-Thomson "allowed Gem Card International (the name at the time) to be created and leave with some patents, manufacturing processes and the first customer of the product line, all related to smart cards."
Axalto plus Gemplus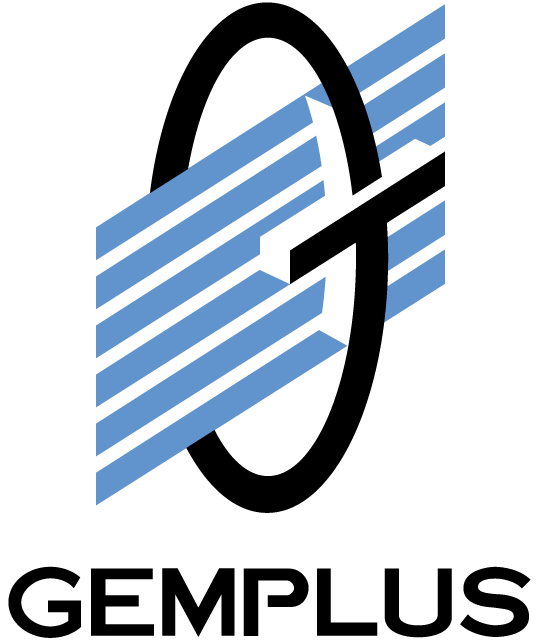 The union was billed as a "merger of equals" and was announced in late 2005 and completed in June 2006, says Beverly. Size-wise, the two companies were comparable, particularly in total revenue, he says. Axalto had about 4,500 employees generating about $800 million, and Gemplus had about 5,500 employees at the time of the merger, generating about $900 million. Gemalto now has 10,000 employees.
The merger was a long time coming, says Beverly. "The whole smart card industry started in the late 80s and from the early 90s to early 00s there were a lot of new startups. Everyone was anticipating there would be industry consolidation, but no one anticipated that number one and two companies would be consolidating. It was really a big sea change when Axalto and Gemplus merged to create a global giant to gain the strength to grow beyond smart cards." The goal, he adds was "to create a company that can do more for smart cards, produce broader smart card applications and thus gain more market power."
Beverly says all shareholders supported the merger. "The time to complete the merger was more about trade and government regulations. Ultimately the regulators realized there was enough competition in this industry," adds Beverly.
Jack Jania, Gemalto's vice president and general manager for secure transactions, says the merger was good for both organizations. "We had complementary manufacturing facilities. Axalto was in traditional verticals involving smart security products, telecom, banking and secure transactions, as well as the government space. Axalto had a very good position in finance and EMV.
"Gemplus was stronger in the telecom area. When you merged the two together, you made a strong entity with minimal overlap. After we merged the companies, the synergies made the companies stronger. That allowed us to rationalize our manufacturing base to make sure coverage was across the world."
The merger also gave the resulting Goliath a stronger presence in the telecom industry. "Gemplus brought a very strong presence in the telecom industry, especially in Europe, where they were very strong. Axalto brought a strong market position in the government space and the other areas, security and banking, we both had an equal market position," says Beverly.
Jean-Louis Carrara, vice president of telecommunications at Gemalto North America, related an example of this telecom dominance. He says the company started to invest in SIM cards, the brains behind most cell phones, around 1995. "Gemplus had invested a lot of resources at the time and took the risk to invest in GSM," says Carrara, who now works out of Gemalto's Texas office and started with Gemplus in 1995. GSM is the Global System for Mobile Communications, a mobile phone standard. Even though Gemplus was still focused on phone cards, he says GSM was seen as a potential growth market. "It was just an open field with new operators cropping up in the early 90s," he adds.
There were other strengths that companies brought to the table, adds Beverly. "Axalto has a strong patent-licensing portfolio concerning smart cards, while Gemplus had a very active partner alliance program, especially in the telecom industry, that has third-party software developers creating applications for the handsets."
Beverly says there was a lot of commonality between the two companies, "The markets we pursued, the markets we provided, and geographic customer proximity." And to illustrate just how global Gemalto is, Beverly says, "Not a single country represents more than 10% of the company's revenues in the 90 countries we serve."
Of Gemalto's various business segments, Beverly estimates that telecommunications represents 55% of the company's business. "That includes NFC. The second part of our business is financial services, bank and card issuers, which makes up about 25% of our revenue. The third part of our business is security, government programs like e-passports and ID cards and identity and access management, primarily for large enterprise users, like Mercedes, Boeing and Microsoft, companies who are issuing smart cards for secure access, logical and physical. This third area is about 15% then another 8-9% for miscellaneous, such as readers and POS terminals," says Beverly.
Gemalto produces e-passports for about 25 countries, and it is providing HSPD-12 approved cards to various U.S. agencies. For many years Gemalto also has been providing the U.S. Department of Defense with the Common Access Card. "We have shipped more than anyone else," Beverly says.
Telecommunications and smart cards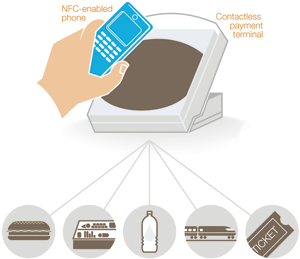 The line between smart cards and cell phones has become fuzzier thanks to the introduction of NFC. "It's certainly a market we've been following, and we're in the middle of 20 NFC pilots around the world," says Beverly.
Jania, who also started out with Schlumberger, believes that Gemalto's future growth rests in mobile payments as well as mobile banking. "Moving forward, integration between the payments part and managing your account securely with the mobile device is the direction it will take. It took 35 years for credit cards to become as ubiquitous as they are. It will take some time for mobile banking to catch on."
Jania believes the key driver for banking in the U.S. is convenience. "Convenience to not only pay for something with your cell phone but to manage your finances with your cell phone. Those are the keys. There's nothing keeping that back from a technology standpoint. You have the technical building blocks to allow you to do everything on your cell phone that you can do on your PC and just as securely."
Financial institutions will switch their thinking from wanting to be top of wallet to top of menu, Jania says. "You can see this moving into the future in five or ten years. You determine whether you want to pay with Visa, American Express, etc., then you go into these accounts and manage multiple ones from one cell phone," Jania says.
Jania believes Gemalto is uniquely positioned in this area. "The form factor of the device will change. The trend is to turn it into a mobile PC with mobile communications. If you really look at it, you're taking your old personal computer and putting it in your breast pocket. It's not going to evolve with less features, it will evolve with more."
Five years ago, no one had a smart phone, says Jania. "You had a phone book, text messaging, and you made phone calls. Period. Then you had email, the ability to read wirelessly. When you ask if the cell phone will go away, I don't know what it's going to look like, but it will look a lot more like an iPhone, than the old Nokia of five years ago."
One of the reasons NFC is getting so much attention from smart card producers and cell phone manufacturers is that it has the capability of tying the various contactless technologies, ISO 14443 Type A and B, and the different applications running on top of these infrastructures together, says Carrara.
Another key ingredient, at least with NFC, is over-the-air management, or OTA, of the data being transferred. With NFC-enabled phones, more security is a must since a person's credit card information is being transferred to and from the person's bank and to his phone. "Gemalto has already announced the first commercial launch in Taiwan where we use our OTA technology," says Carrara. "Today, we already have servers to remotely change data in 700 million SIM cards around the globe. They're very reliable and scalable."
Gemalto, while currently involved in 10 NFC pilots, is focusing more on those that will lead to fill commercial deployment, Carrara says. "One very innovative pilot is in France involving six banks, three operators and one mobile virtual network operator," he says. "We're acting like a switch between the banks and the operators."
As for concerns about security with NFC, these problems have been solved, Jania says. "From a mobile payment and banking perspective, when have you heard of anyone who had their cell phone cloned? You put a smart card in the phone, a SIM card, include triple DES security, and you've eliminated the cloning problem overnight."
What should be of greater concern is what Jania calls lax bio security. "Everyone knows to use a PIN code for your debit card. Virtually every phone sold in the U.S. has the capability to use a PIN code to lock your phone, but virtually no one uses it. That's where the security risk is, teaching the general population to use the security protocols already in place. It's an education process. Eventually everyone will PIN lock their cell phones, and your account information will have its own unique PIN codes as well."
GSM continues to soar for Gemalto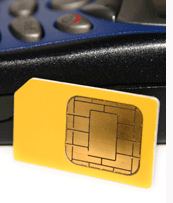 Some of Gemalto's achievements have to do with being in the right place at the right time, or in the world of technology parlance, latching on to the next best thing before anyone else realizes it will be that next best thing. The company's foray into GSM is just one example.
In 2000, says Carrara, GSM represented 7% of wireless subscribers. "Today it's 45%. Essentially, GSM has strength in North America. By the end of the year, it will have a half billion GSM subscribers in the Americas. Five years ago, GSM was a small technology."
What happened last year, says Carrara, is that Verizon announced it was going long-term evolution, the next generation of GSM. "Essentially, the same way that AT&T jumped to GSM, Verizon is jumping wagon to the GSM family. That means everyone who is on CDMA today, has to think, 'Am I going to do the same thing as Verizon or continue with technology that larger operators are abandoning?'" asks Carrara.
What does this mean for Gemalto? The short answer: lots of SIM card sales. Gemalto shipped one billion GSM SIM cards last year and is the world's leading producer. The company also manages 700 million mobile phone subscriptions for 170 mobile operators with its OTA platforms.
All of these capabilities are why at the time of the merger and with the convergence of smart cards and cell phones, it was quickly realized that the new company couldn't tout itself as simply a smart card provider, says Beverly.
"Our vision became one of digital security," he says. "The real value we bring to the world is that we give you the freedom to enjoy your digital lifestyle," he says. "In today's world there are many opportunities to watch your TV on your mobile phone, to buy your tickets online. All these digital interactions are new, and it's great to be able to do that, but you have to be able to do that knowing it's more secure and convenient. What we're trying to bring to the world is a smart card but that's only a part of that offering. There are customers looking to us to help them deliver this technology by providing more software and more services.
"To say we're a leader in smart cards is inaccurate—that's old news. We deal with multiple digital devices," Beverly says. "We wanted to take this company and expand it beyond the traditional smart card business."