Where in the world is GSM?

By Ryan Kline, Contributing Editor
Ever wondered how that expensive little handset connects to the phone network that undoubtedly seems to be taking more and more of your money? Well, the handset is pretty smart – at least in most of the world – relying on a smart card known as a Subscriber Identity Module (SIM). Most phones in the world according to 3G Americas use GSM or UMTS networks that rely on the SIM for security, identification, and more. The GSM Association estimates that 2.54 billion subscribers use GSM/UMTS accounting for more than 85% of the total world wireless market.
In 1982, Groupe Spécial Mobile (GSM) was formed by the Confederation of European Posts and Telecommunications (CEPT) to design a pan-European mobile technology. The name GSM was later redefined to mean Global System for Mobile communication as the first GSM phone call was made in 1991. GSM has grown greatly since these humble beginnings.

1994 GSM subscribers surpassed one million
1995 Global GSM subscribers exceeded 10 million
1996 GSM subscribers hit 50 million
1998 Global GSM subscribers surpass 100 million
2001 GSM subscribers exceed 500 million
2004 GSM surpasses one billion customers
2005 GSM surpasses 1.5 billion customers and dominates over3/4 of the wireless market
2006 GSM surpasses two billion customers
2007 GSM customers exceed 2.5 billion customers
(All dates and figures gathered from GSM Association.)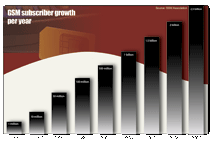 <>
Definitions
There are a lot of terms that will be used throughout this article, so it may be helpful to cut this section out and keep it as a reference while reading ahead.
CDMA—Code Division Multiple Access is a communication channel access method that uses a spread-spectrum technology and a unique coding scheme where each phone is assigned its own code. There are approximately 356 million CDMA cellular subscribers in the world accounting for 11.96% of the total world wireless market.
TDMA—Time Division Multiple Access is a communication channel access method for shared medium, usually using radio networks. It allows multiple users to share the same frequency or channel by dividing the signal unto different timeslots. This allows multiple users to share the same transmission medium while only using part of the bandwidth required.
IDEN—Integrated Dispatch Enhanced Network is a mobile telecommunications technology developed by Motorola. Sprint Nextel is the main United States provider of iDEN services. One of the main features iDEN provides is the push to talk technology.
EDGE—Enhanced Data rates for GSM Evolution is a digital mobile telecommunications technology that allows for a higher data transmission rate as well as increases data transmission reliability. EDGE was introduced in North America in 2003 and is now used on GSM networks worldwide.
UMTS—Universal Mobile Telecommunications System is one of the third generation (3G) mobile phone technologies that use W-CDMA, which is based off of to the CDMA technology, but has a higher bandwidth and is not compatible with CDMA.
HSPA—High-Speed Packet Access is a protocol that extends and improves the performance of existing UMTS protocols.
3G—Third Generation of mobile phone standards and technology, after 2G. It is based on the International Telecommunication Union (ITU) family. 3G technologies enable network operators to offer users a wider range of more advanced services while achieving greater network capacity through improved spectral efficiency. Services include wide-area wireless voice telephony and broadband wireless data, all in a mobile environment.
GSM dominates globally but still lags in U.S.
Chris Pearson, President or 3G Americas, LLC, explains the major differences between GSM and other cellular network types and highlights a few of the advantages of using a GSM network:
"There are four digital technologies currently available in the U.S.—GSM, CDMA, TDMA and iDEN. GSM offers many advantages and that explains a reason for its predominance on the global market with more than 2.54 billion subscribers (as of Q2 2007). The GSM family of technologies (GSM, EDGE, UMTS/HSPA) has multiple diverse device choices, national and international roaming coverage (700 operators in more than 200 countries) as well as outstanding high speed wireless data capabilities with UMTS/HSPA. GSM is the number one technology in the Americas region overall with a 60% share of market."
"TDMA networks are on the decline in the United States and throughout the Americas as the technology does not have a commercial 3G migration path available. Although it is still strongly represented in the U.S., CDMA is limited in its scale and scope internationally and many operators are deploying GSM networks in place of or in parallel to their CDMA networks. In fact, the CDMA market share continues to decline in Latin America and the Caribbean."
David Pringle, a spokesperson for the GSM Association (GSMA), backed up Mr. Pearson's statement noting, "85% of the world's mobile phone users have a GSM phone, whereas less than 15% use CDMA. Compared to GSM, CDMA is a niche technology."
It appears that although the western hemisphere is behind in the use of GSM, there has been a fair amount of progress made in forming a universal technology that works everywhere. Mr. Pearson continues:
"Two of the four largest national providers in the United States utilize GSM technology, AT&T, the largest service provider in the US, and T-Mobile USA, the number 4 provider. In fact, AT&T Wireless and Cingular Wireless (now AT&T) were both major US operators who already migrated their TDMA networks to GSM. GSM operators in the US are showing outstanding customer gains and low churn."
"GSM is well established in the United States as well as the rest of the Americas. In fact, GSM is the only technology available in every country throughout the Western Hemisphere (Americas) and is the number one technology in the Americas regions with a 60% share of market."
"Most GSM devices sold in North America will work wherever you roam internationally. Frequency planning is a unique issue within geographic regions and individual governments. The United States spectrum allocations (frequencies) are similar to most countries in North, Central and South America. Additionally, some countries in Asia and the Middle East have some similar frequencies."
"Governments often have to consider very specific issues when choosing a spectrum, such as incumbent private, commercial and military spectrum usage. In the United States this is primarily the 850/1900 MHz band as in Canada and throughout much of Latin America. More recently T-Mobile acquired 1700/2100 MHz bands in addition to their 850/1900 MHz bands."
According to Mr. Pringle and the GSMA, "US GSM operators use a different frequency because the 900MHz and 1800MHz bands used in Europe weren't available in the US. Many of the latest GSM handsets are quad band, meaning they will operate on the 850, 900,1800 and 1900 bands and can be used worldwide."
The power of the SIM
The use of contact smart card SIMs with GSM adds a much more robust security solution and means to authenticate users.
"The SIM card is a tamper-resistant IC card that is built to resist all kinds of logical, chemical, optical, physical attacks to protect its data," stated Mr. Pearson. "This tamper-resistance is the result of years of development with military, government, banking, and telecom industries that are using smart cards to secure distributed client applications. SIM manufacturers base their products on these IC, build OS that are certified for a high level of security, and have data processing centers that are also qualified for security (GSM Association SAS certification, VISA/MC certification, etc.)."
Mr. Pringle agreed, stating the GSM network adds a level of security that others do not provide:
"GSM has an anonymity mechanism, so it is hard to tell who is actually making the call, and it also uses strong authentication. GSM networks provide for privacy across the radio part of the link … (using) an encryption algorithm to scramble the signal."
"Finally, SIM cards carry the authentication algorithms and keys of the home network (i.e., the SIM issuer). The home network authenticates the SIM because they share the same algorithm and keys, and they can do so regardless of the visited network that might be using another authentication algorithm altogether. In systems where the authentication and keys are in the phone, service is required from the visited network and authentication is often turned off to enable the service. So as you can see, a CDMA phone without a SIM card does not have the same security enabled in a GSM phone with a SIM."
"When connecting to a GSM network, the servicing network retrieves the International Mobile Subscriber Identity (IMSI) of the phone and turns to the home network to get a few pairs of authentication 'challenges and responses.' The servicing network then sends one authentication challenge to the SIM and gets a response. Service is provided if the response matches the one provided by the home network."

3G makes GSM more secure with mutual authentication
GSM coverage is immense with more than 2.677 billion users worldwide. But today, just 5-10% of the GSM market is using the most common 3G technologies (UMTS/HSPA). All indications are, however, that worldwide growth in 3G will occur rapidly. 3G Americas state that there are currently181 commercial deployments of UMTS technology in 77 countries, with 254 operators committed to deploying UMTS with most deploying HSPA.
In 2G GSM networks, there has been some concern with the ability to pirate an IMSI since in 2G GSM only the phone is identified … but the network is not identified back to the phone. 3G Americas explained that such an attack would be extremely hard to do especially for such a small gain, and also explained what newer roll-outs of the GSM network have done to eliminate this problem:
"There was a risk that a rogue GSM network could be established just to tap into that phone if that network sends a challenge and permits service without checking the authentication response. This network could then collect IMSIs, and responses for certain authentication challenges. This would be a costly attack since a real radio network has to be established but nonetheless this attack could be implemented."
"In UMTS, the UICC (3G SIM) can also authenticate the network as both the UICC and UMTS networks support mutual authentication. However, UMTS (as w-CDMA) are backward compatible with SIMs, and in that case, the SIM does not support mutual authentication."
Most agree, however, that while this attack is possible in 2G GSM, it is unlikely as it would be extremely costly. Still 3G eliminates the potential via mutual authentication.
GSM ushers in the NFC-enabled future
The added benefits of having a SIM card in a handset is also proving to be useful in the deployment of Near Field Communications (NFC) technology.
"NFC enables three types of contactless modes: peer-to-peer mode, reader mode, and card-emulation mode," according to Mr. Pearson. In card-emulation modes, the NFC phone emulates a contactless card. For instance, the POS terminal sees the handset as a payment card and not a cell phone. NFC phones will therefore take advantage of existing contactless infrastructures such as the contactless payment readers and (transit) turnstiles. The 3G SIM (aka UICC) supports multi-applications, and has been used to host subway tickets and contactless payment applications."
Withstanding the added security, there still has been a push to develop a CDMA-compatible NFC handset. The reality of that happening will essentially depend on the key decision makers that will have to determine whether having a phone with less security is capable of carrying around credit card information.

A GSM handset in every hand?
The transition from large car phones that plugged into cigarette lighters to cell phones that are now as sophisticated as a computer and only need to be charged every other day has also brought around new security features. The SIM card has been key to many of these features and the new UICC promises to usher in a whole new era of advanced security and functionality with 3G networks. Worldwide GSM is the dominant technology and it has gained a leadership position in the Americas as well. While the U.S. remains a step behind the rest of the globe in GSM penetration, U.S. telecommunication companies have made great strides to standardize with the rest of the world.
Near Field Communications News and Insight
Explore more developments dealing with the implementation of Near Field Communications, a short-range wireless technology that promises to revolutionize contactless identification, payment, access, and more.
Click to visit NFCNews
.