KeyTone, CMS joins forces in secure tracking of fine art and collectibles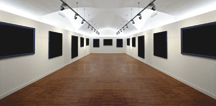 KeyTone Technologies announced its strategic partnership with Collection Management System to design and deliver an end-to-end solution for organizations to leverage RFID to maximize the use and security of fine art and other expensive collectibles.
After a collection is labeled with RFID tags, staff members can access information about any piece of interest, such as home location, conservation history, artist, or any other piece of information that already exists in the database can instantly be displayed. Staff are able to track movement and take inventory of artifacts without physically handling them, thus greatly reducing damage to collection items.
The joint venture aims introduce an art tracking and inventory hardware and software solution targeted to customers who handle or store art and collectibles such as museums, auction houses, art galleries, art collectors, and fine art shippers.
Several private collectors have recently deployed this solution to track and secure their private art collections. The solution is helping the collector track artifact movement automatically, improve collection preservation through reduced handling, fast track inventory audits and work with existing security systems to provide alerts and notifications on any security issue.