Kinetic, JCDecaux launch NFC ad campaign in UK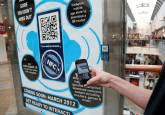 Kinetic and JCDecaux have launched the UK's first large-scale deployment of NFC-enabled advertisements in Reading, England.
A total of 13 brands installed new NFC ads across all of JCDecaux's 6-sheet poster sites in Reading earlier this week, offering passersby the opportunity to receive information, coupons, games and other content with a tap of their NFC smart phone.
Under the "Test the Near Future" project, a further 300 bus shelter poster sites across Reading and poster sites in the Oracle Shopping Mall will become NFC and QR-enabled.
Advertisers taking part in the trial include: Morrison's, H&M, Universal DVD, Universal Special Projects, Mercedes, ITV2, Lucozade Sport, EA Games and Unilever's Lynx, Toni & Guy, Magnum and Vaseline.
According to the partners, content will be updated regularly across the month, with different advertisers providing different content each week. Tech support for the project is being provided by Zappit.