LAKS introduces watch to double as a payment device using MasterCard PayPass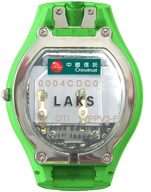 Austrian watchmaker LAKS, in conjunction with On Track Innovations, Chinatrust Commercial Bank and MasterCard PayPass, has introduced what is probably the first contactless payment watch. The launch, part of a promotion tied to the upcoming 2006 FIFA World Cup in Germany, enables wearers to simply tap their watch on a contactless reader to pay for their purchases.
Vienna–Austrian watchmaker LAKS, which has often caused a sensation in the past with its innovative products, has introduced a breakthrough product for cashless transactions. Its latest development, the LAKS SmartTransaction Watch, is the world's first watch equipped with MasterCardr PayPass, a new "contactless" payment feature that provides consumers with a fast and convenient alternative to cash for their everyday small purchases.
MasterCard PayPass offers consumers a convenient alternative to cash that allows for small purchases to be completed quickly, securely and easily. Consumers no longer need to fumble for cash and coins, swipe a card, or sign a receipt for any PayPass purchase under USD $25 (over USD $25, a signature and receipt are required). Users simply tap their PayPass-enabled card or device, such as these watches, on the PayPass reader at participating merchants and they are on their way.
LAKS CEO Lucas Scheybal sets out to spot international trends early on and incorporate them in lifestyle accessories. In his words: "The invention of the LAKS SmartTransaction Watch, equipped with MasterCard PayPass, has once again put LAKS a step ahead of the game. To obtain compliance with MasterCard PayPass specifications, we built high security specifications into an analog watch. Our watches are now set to enter one of the most exciting markets of the future."
Launched in line with the upcoming 2006 FIFA World Cup in Germany, the watch has been created in collaboration with Chinatrust Commercial Bank, one of the largest credit card issuers in Taiwan, LAKS GmbH, a well-known Austrian watchmaker and On Track Innovations Ltd., a global leader in contactless microprocessor-based smart card solutions.
LAKS has produced these "wrist-worn payment devices" on behalf of Chinatrust. The limited edition Chinatrust 2006 FIFA World Cup MasterCard PayPass watch is being issued as a companion device to MasterCard credit cards and has been designed in celebration of the FIFA World Cup. The watch has a sporty exterior that showcases soccer ball images on its face and will be offered to consumers in three vibrant colors – green, blue and orange.
LAKS Technological Breakthroughs:
● LAKS Collection – from Klimt to payment cards
● LAKS Memory – forget old-style USB memory sticks!
● LAKS Memory Music – your favorite songs on your wrist
● LAKS Smart Transaction Watch – payment card on your wrist
For further information: www.laks.com/project/paypass.